January 11, 2018
I have moved, not far, just to the neighbouring village of Gibsons. I`m now not anymore surrounded by tall cedars but I have a stunning view of the bay with the harbour and the coastal mountains in the background.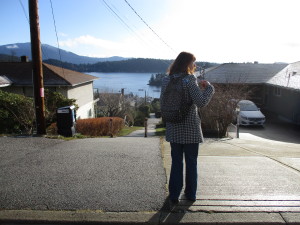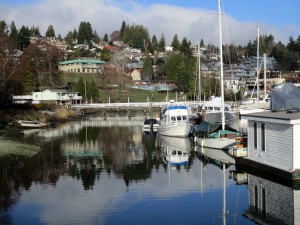 From my house, I can see the ferry that connects the mainland with the Sunshine Coast. And I can see the small boats that are puttering from island to island.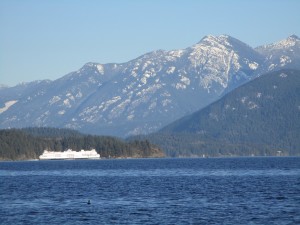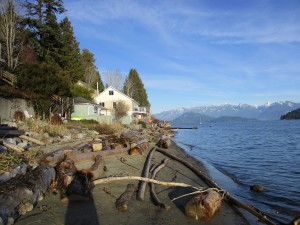 At night, I hear the foghorns of the tug boats, and when an ambulance passes by with sirens, the neighbours`dog, a husky, is howling with them.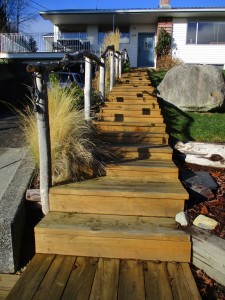 On signs in my neighbourhood, I am warned of cougars, bears and coyotes that are frequenting the area and the forest trails in my town.
Older Canadians know Gibsons through an old, iconic and very successful TV series called "The Beachcombers" that was filmed here. In the local  pub "Molly`s Reach", you can eat fish and chips and look at the pictures of the stars in the series.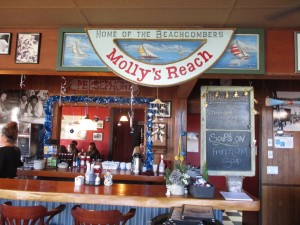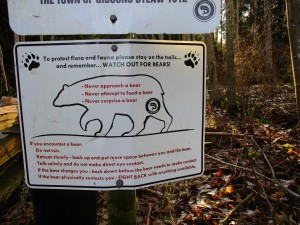 December 7, 2017
I am so spoilt to be able to live on the Southwest Coast of Canada, in British Columbia. In my neck of the woods, I find many places to regenerate or just to relax after some hours of writing.
Be it a calm lake or the temperate rain forest or the beach, I go there and return refreshed and and with lots of oxygen in my brain. I might even come back with the solution how to get rid of the snag that I`ve hit in the plot of my new murder mystery (it is set in the Northern regions of British Columbia).
Where do you go to renew your spirits?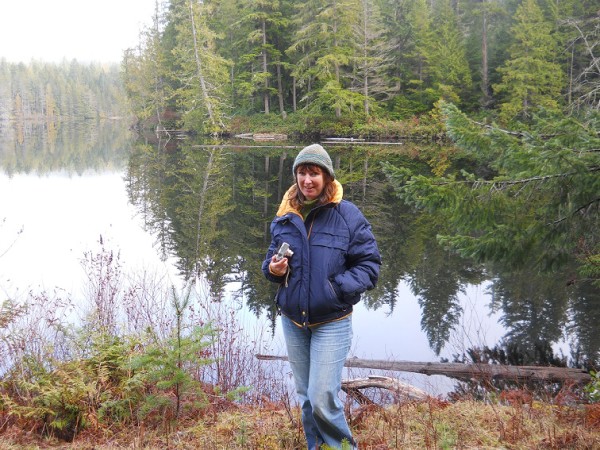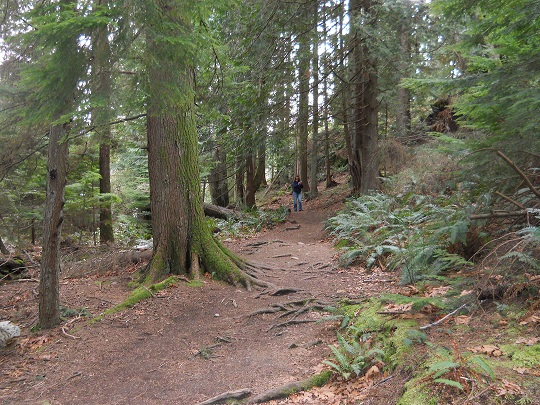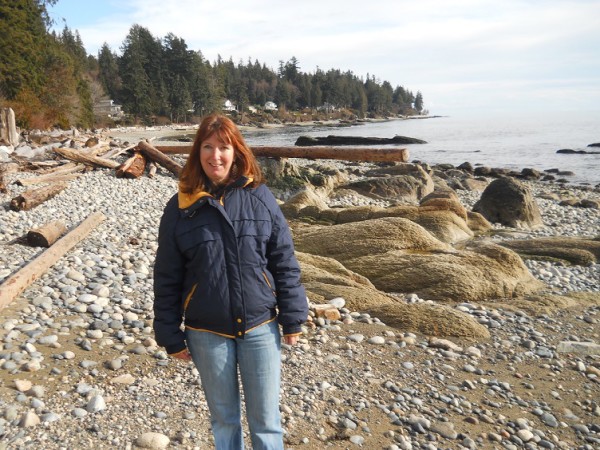 November 20, 2017
It is nice when my readers cannot wait until my next book is published. I got this email just recently:
"Hi Bernadette,
I read that your new book Stranger on the Ice was going to be published in English this past summer of 2017. I can't seem to find it yet. Can you give me a status update? I've found it on Amazon in German. Looking forward to the English translation.
Best regards,
Janice"
For those who have the same question: My next mystery novel will be out next spring. It has been translated by the one and only Gerald Chapple again and the text will go through the editing process and then you will be able to read it!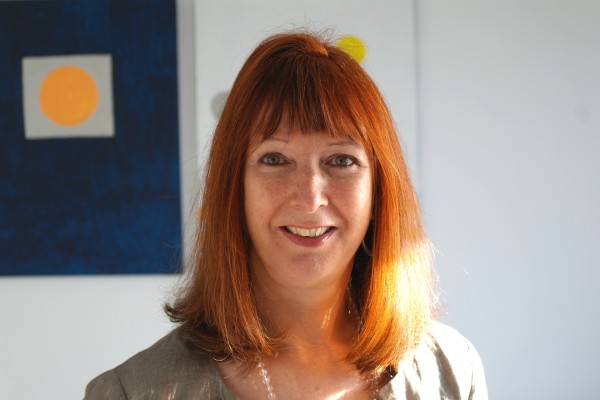 Photo @ Bernadette Calonego
I live in an area near Vancouver, Canada, where the fall is still in full swing. No trace of snow yet. My yard is full of maple leaves.
It is too warm for some bears who should be hibernating by now!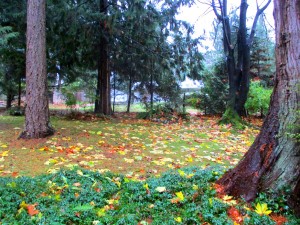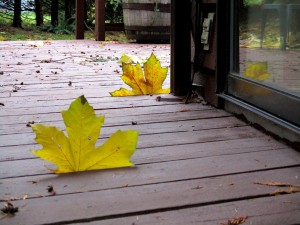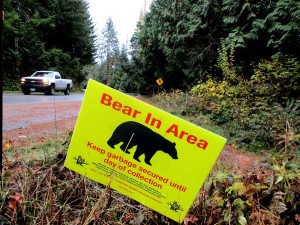 November 12, 2017
A surprise visit from my reader Ursula from Germany! Her daughter Ilka and Ilka`s friend Conni contacted me and arranged the visit in Vancouver, without Ursula knowing.
You should have seen Ursula`s face when she realised who was expecting her at the elevator in the building!  It was a great encounter and we all enjoyed it very much. Ilka und Conni also brought their kids with them, and we had a fun time together.
What a nice thought of Ilka and Conni to make this visit possible! I`m glad they contacted me. The photos are a wonderful memory of our get-together. In hours like these, it is great to be an author, I can tell you…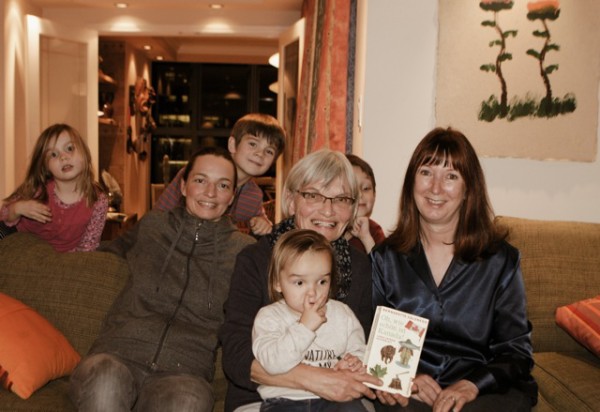 October 29, 2017
I like it when my readers send me photos of one of my books or when they pose with my books. Sometimes I cannot resist the temptation either to take pics of my books in all kind of situations (I hope you can forgive me…).
My reader Heidi Giebl sent me this picture and wrote: "Hello Bernadette! Look, my Saturday night! … I am so curious … and looking forward to it!"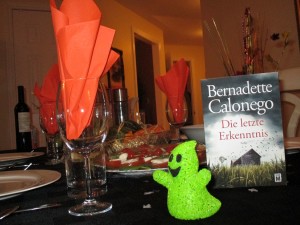 My book celebrates Haloween!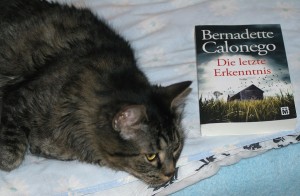 October 26, 2017
My new German thriller has arrived!
It is always an elating feeling to hold it in my hands for the first time. I cannot really describe it. it is thrilling (no pun intended)!
I wonder how an author feels who has published dozens of books in dozens of languages. Does she/he still feel the thrill when a new book arrives? Or is it like a singer who has performed a hit song for hundreds or maybe thousand of times and cannot hear it anymore?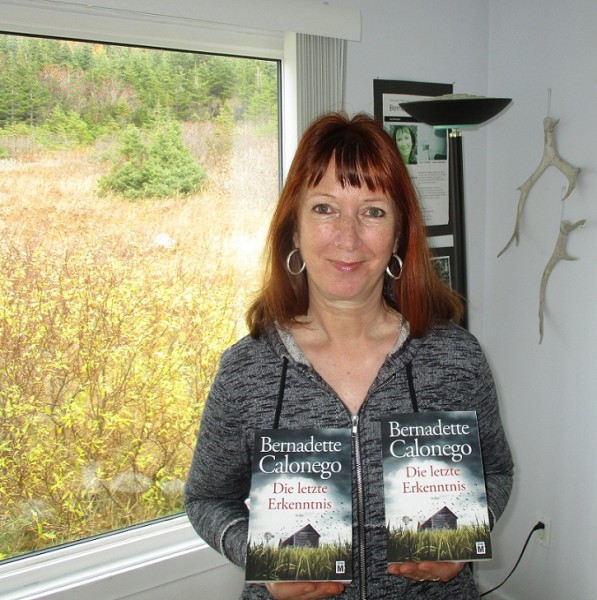 October 11, 2017
We had a really nice fall here in the North of Newfoundland. I`m glad I didn`t miss out on these warm, sunny, mosquito-free days!
I forced myself to keep on writing my new crime novel while the lovely weather was beckoning outside … Luckily I have a good excuse to make time for walking. Her name is Coco and she is a lab/husky mix.
September 14, 2017
You`ve probably read that Canada celebrates its 150-year-anniversary since the founding of the nation. The history of the indigenous people in Canada, of course, is way longer, several thousands of years.
Some countries would celebrate the jubilee withe military parades or with pompous ceremonies.
Canada is more laid-back and unconventional.
There is one of the many projects for the 150-year-anniversary that I really like. An icebreaker named "Polar Prince" circumnavigates Canada`s three coasts – the Atlantic, Pacific and Arctic coasts – in 150 days.
There are scientists on board, artists, young Canadians, indigenous people, photographers and documentary filmers, community leaders, people with disabilities or Canadians, who applied to be part of one of the  many legs of this cruise.
.
I had the chance to visit the "Polar Prince" when the ship anchored in L`Anse aux Meadows on the Northern tip of Newfoundland. Expedition leader Geoff Green showed me around and explained the activities on board.
I wish I could have stayed on the icebreaker and sailed to the Arctic! But I`m happy that I set foot on the ship and got in touch with some of the passengers and crew.
Happy Birthday, Canada!
August 30, 2017
What a captivating message from Paul Bovaird from Walpole/Massachusetts.
He read my mystery novel "Under Dark Waters" and wrote a wonderful note to me:
"I loved it. The slower I read it the better I liked it. I feel that if you read really fast you don't get a chance to chew on the words.
I fell in love with your main character. Thank You so much for writing such an enjoyable book."
There must be some very nice people in Walpole/Massachusetts!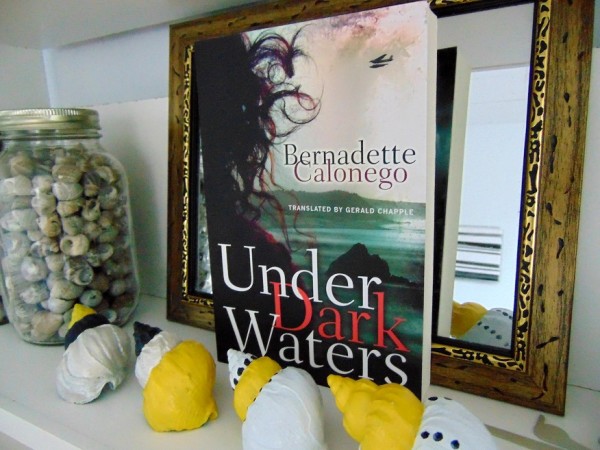 August 13, 2017
Back from an exciting trekking adventure in the Arctic North of the Canadian province of Quebec. This is the land of the Inuit of Nunavik.
With Inuit guides, we explored Pingualuit National Park, the endless tundra, archeological sites and we climbed legendary Crater Lake. This lake was created 1.3 million years ago when a meteor collided with the earth.
I also learned how to light a traditional oil lamp and keep it burning, like the Inuit used to do in their igloos generations ago. It is not as easy as one might think, it takes a lot of skills! But the emanating heat is astounding!
I often had wet feet (the tundra can be very swampy!) and I frequently had to take my mosquito net out of my backpack. But I wouldn`t want to miss one day that I spent in Nunavik!
July 10, 2017
Hot summer days are rare in Northern Newfoundland. You have to seize the day when it happens! I am in for a reward anyway because I finished looking through the corrections of my next German mystery novel and deserve a break.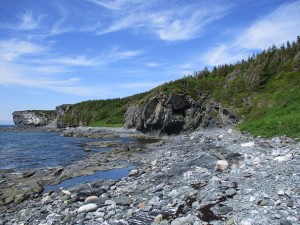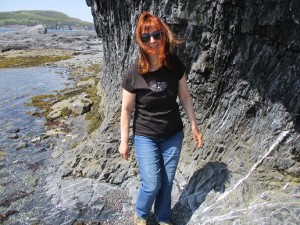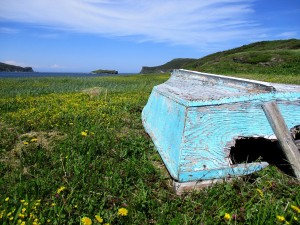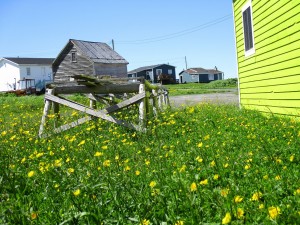 Juli 5, 2017
This and that …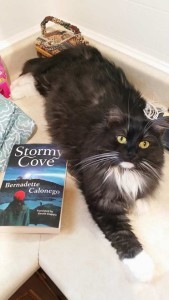 Dana sent me the cute cat/book picture.
June 13, 2017
My next thriller that is set in Canada`s Arctic is being translated into English. A lot of work has to be done before the publication.
Right now, I`m filling in a questionnaire for the publisher AmazonCrossing.
The end of the trail hasn`t been reached yet…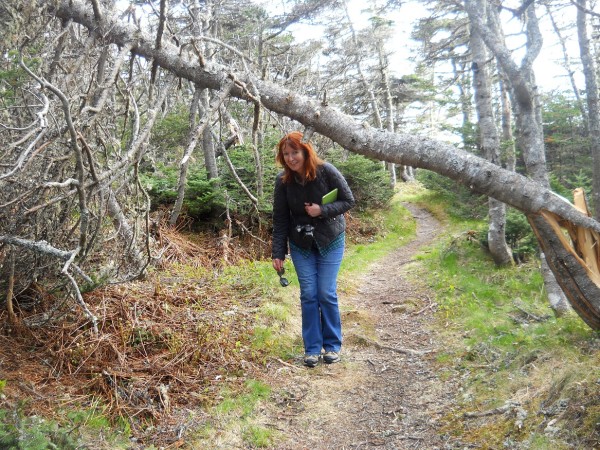 June 10, 2017
I`m on the road in Newfoundland again, discovering beautiful, mysterious and exciting things!
Like these two caribous who ran away from me in the tundra, but I was still able to capture their picture.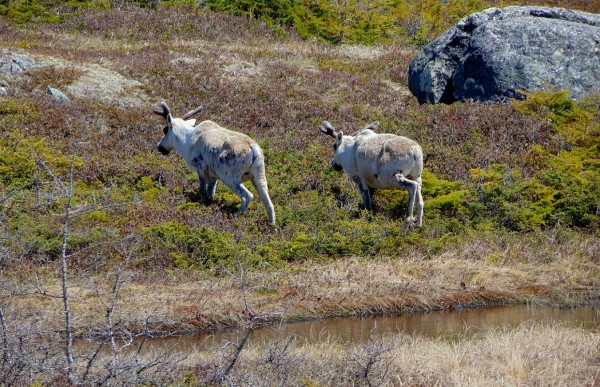 In Canada, you find "hoodoos", interesting rock formations caused by erosion, not only in Alberta, but in other regions, too. Like here in Newfoundland. And there are endless sandy beaches, like in the Sandbank Provincial Park.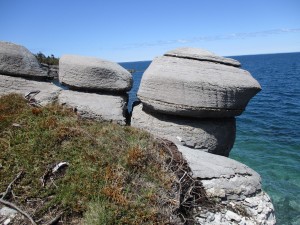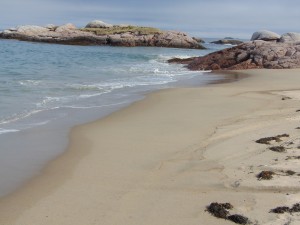 One of the things I love most about Newfoundland are the tiny fishing communities, nestled in remote bays.
I love to wander the meandering streets and talk to the local people.
In the picture below the fog rolls into Burgeo, a small village on the North Atlantic.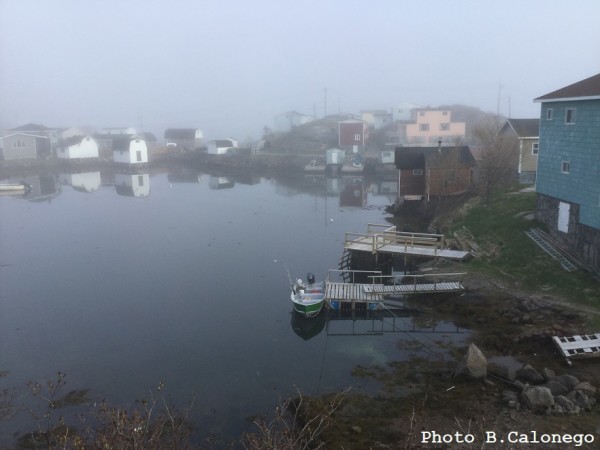 May 12, 2017
My book reading in the Vancouver Alpen Club, organized by the Consulate General of Germany and the Consulate General of Switzerland.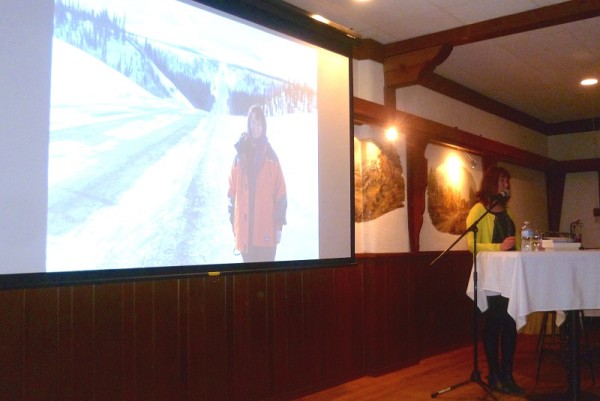 It was a wonderful opportunity to meet German speaking readers in Vancouver. I also showed slides of my trip to the North, to Dawson City in the Yukon Territory, of the Dempster Highway and of course of the ice road between Inuvik and Tuktoyaktuk in the North West Territories where my latest mystery novel "Die Fremde auf dem Eis" ("The Stranger on the Ice") is set. This thriller will be published in English in the summer. Stay tuned!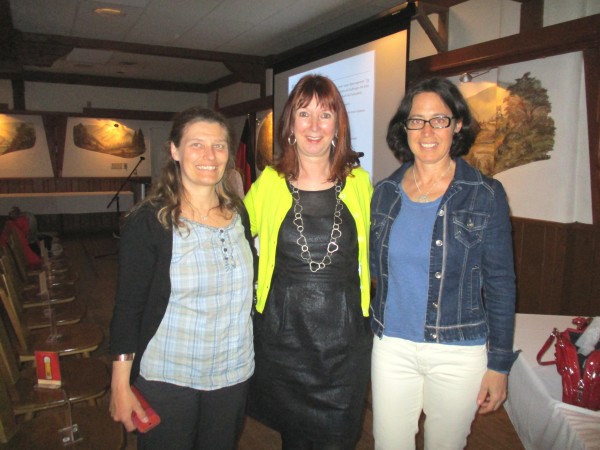 With two of my readers.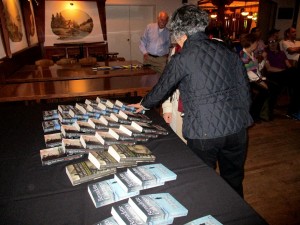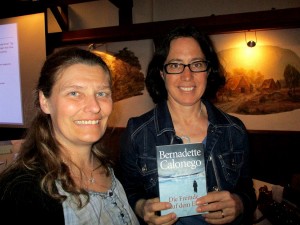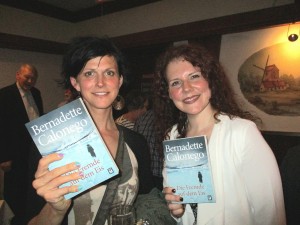 May 2, 2017
Spring has arrived in Vancouver!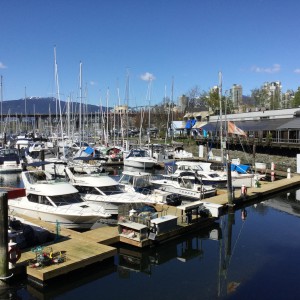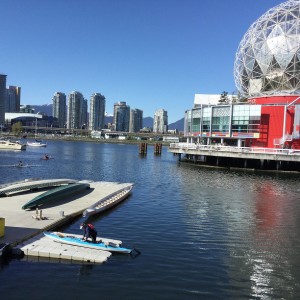 April 23, 2017
Meet-up with Crime Writers of Canada whose member I have become. At the Vancouver Public Library, some of the crime fiction authors answered questions of readers and authors in the audience.
The most frequent questions that I hear are (and I heard them that night, too):
– Do you know the plot and the details of your book before you start – or do you start and develop the plot (and the protagonists) while you are writing the book?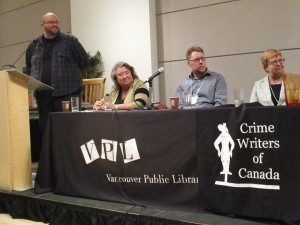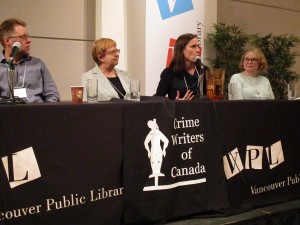 Answer: There are those who know everything beforehand, and there are those like me who have the best ideas while they are writing. And after the end of the book, they (I) have to rewrite part of the text.
Second most often heard question: How do you close the deal (meaning: How do you find a publisher and sell the book?)
One author on the panel in Vancouver said that one has to try to avoid at all costs to end up on the "slosh pile" where all the other manuscripts are. You have to stick out somehow. One suggestion was to participate in writing contests.
Another author told me in a private conversation that she gets up every morning at 5 and writes for an hour or so because she has a day job and a child. This way she manages to finish a book in a year. How admirable!
I met Cathy Ace (right) , chair of Crime Writers Canada and a successful author. She is so encouraging and a trailblazer for crime fiction.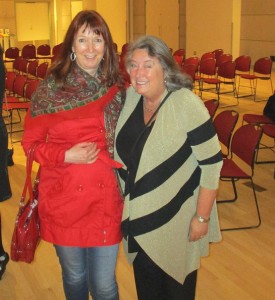 April 2, 2017
When I do research for my books, it is sometimes easier to photograph a place or an event than to take notes, especially when I travel. True to the saying that a picture is worth a thousand words.
This is why, wherever I go, I always have my camera with me. While I`m writing the book, I can look up the pictures and remember the details of a location or the colour of the sky on a certain day or just the general atmosphere.
Sometimes, I take a photo of a sign with explanations, of a display or a panel, which is faster than to write it all down.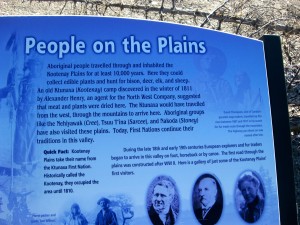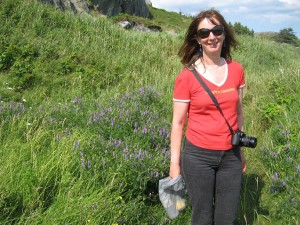 In essence, I`m doing what I have been practising during my years as a journalist. But I tend to look at the photos only after I have jotted down a scene or description that is fed by my imagination. I don`t want anything to come between my fantasy and my writing at first.
After the groundwork is laid out, I can make adjustments or alter entire passages because the photos said something different than my memories.
There are quite a lot of snaps that show me with a camera, but hardly any of me writing – which is normal, I think. Writing is a solitary occupation for me. Just leave me alone in my happy zombie bubble…
March 7, 2017
As an author, it is important to keep up with the latest trends, especially on social media. That is why I recently joint Instagram. It has opened a totally new world to me.
Have you known for instance, that there is something like "book photography"? It means that you stage your book in a nice setting, with some pretty accessories, and take a picture.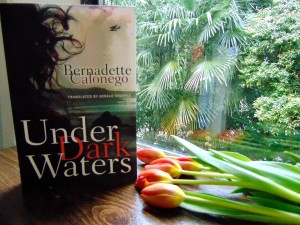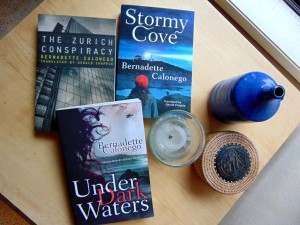 On Instagram, it is totally not cool to just publish the cover of your book. So I took a few copies and wandered around in my house and on my deck in order to find a decent spot.
Nature and books are a popular topic on Instagram. I even stuck one poor book in a flower pot. It might blossom soon…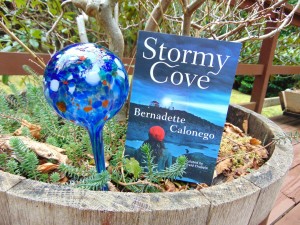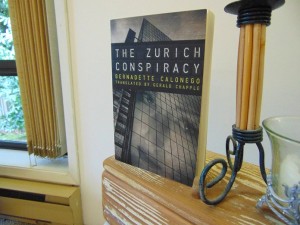 I should also arrange some pets with my novels, that would really give me LIKES. But I think I might run into trouble with some feline companions and this picture is proof.
Anyway, I will master the art of book photography eventually. You still can follow me on Instagram under "bernadettecalonegoauthor" and "bernadettecalonegobooks".
By the way, my thriller "Under Dark Waters" that is set in British Columbia and the Northwest Territories (Canada) is almost FREE right now if you choose the e-book.
You can buy it for U.S.$ 0.75 or can$ 1 until the end of March on the Amazon website.
February 13, 2017
Finished! I have edited the last draft of my new mystery novel and put the word "The End" underneath the last chapter. The novel will be published in German first. A great feeling…
Now it is time to take a deep breath, air my head and prepare for the next book.
It is like on one of my hikes: One has to sit down on a bench or rock, take in the view and recover in order to take on the next few miles.
It gave me the idea to post some pictures that catch exactly that moment of body and mind relaxation.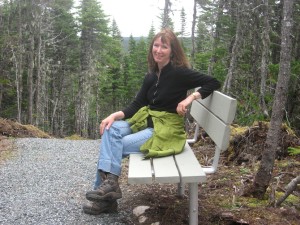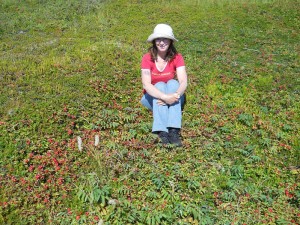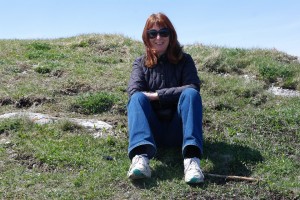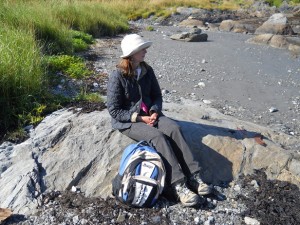 February 2, 2017
It is nice to live in a corner of Canada where you are not buried in snow in the winter and where you can take leasurely walks on the beach after a long day in front of your PC.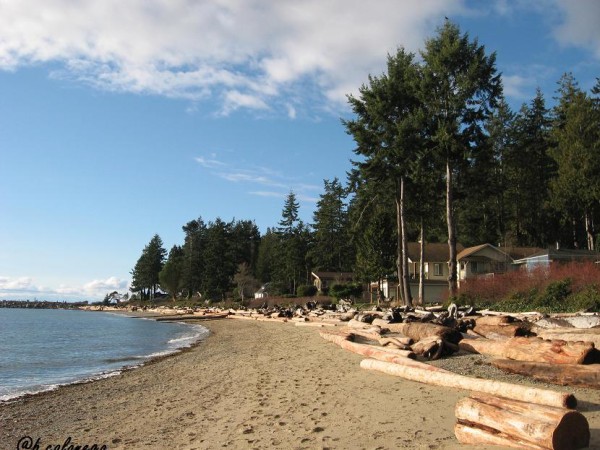 The Southwest of Canada is held warm and humid by ocean currents in the Pacific which makes the temperate rain forest lush and sprawling.
The fishermen living in the opposite corner of Canada, in Northern Newfoundland, cannot believe their eyes when they see that fishing boats are heading out to the ocean in British Columbia while the North Atlantic freezes over where they fish.
Life is not fair, I know. But I am very thankful that I can live in different regions and feel at home in all of them.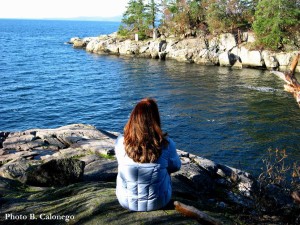 January 8, 2017
What do people on the barren island of Newfoundland – location of my mystery novel "Stormy Cove" – do in the long winters to keep them sane?
They saddle their snowmobiles and drive to their cabins in the woods. They gather there with family and friends – anybody can drop in! – and talk and drink and have a good time!
Here some cabins that the man in my life drove me to: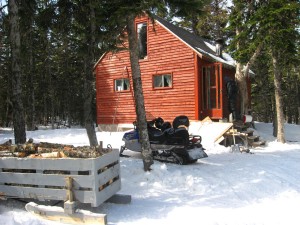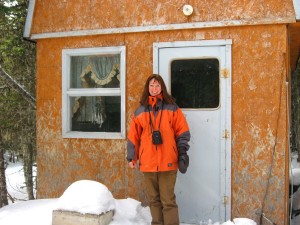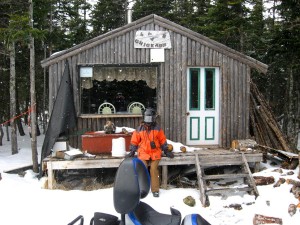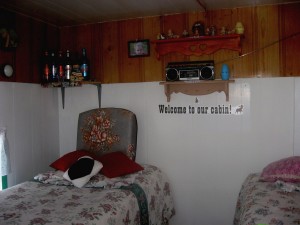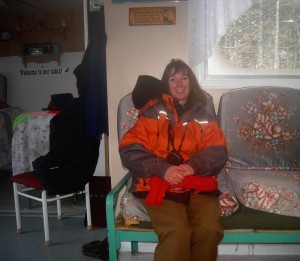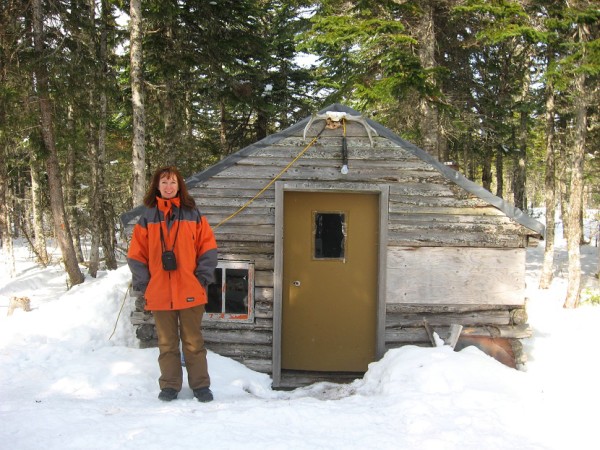 December 31, 2016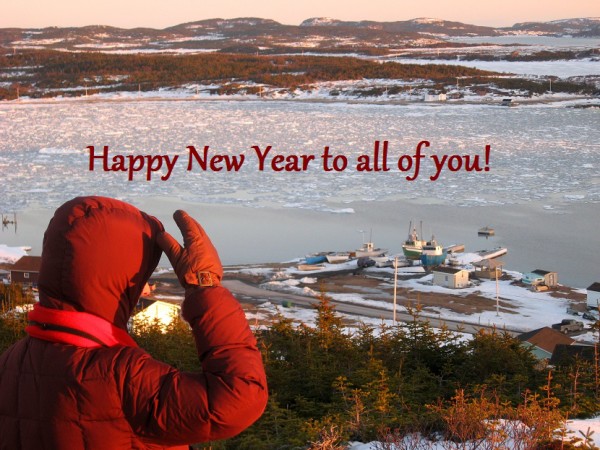 December 27, 2016
On the rugged island of Newfoundand, on Canada`s East coast, people celebrate Christmas for thirteen days. Some of the locals disguise themselves as "mummers" or "jennies", in old rags or pillow cases. They go from door to door and get drinks (usually alcohol) and sometimes they have to dance a jig.
December 25, 2016
This is the time of sharing, isn`t it?
I share some goodies with a Gray Jay, Canada`s national bird.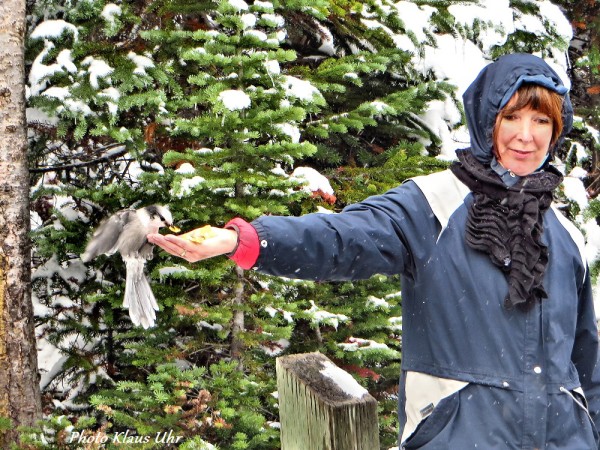 Author Bernadette Calonego with a Gray Jay.
December 11, 2016
Now that it is getting cold, I could show you some pictures of an igloo. It is not easy anymore to find an Inuit who would show curious tourists how an igloo is built.
As a shelter from storms and the cold, an igloo is still the best accommodation you can wish for when you are out in the middle of nowhere.
Seal blubber makes a good light (if you know how to tend to it!) and caribou hides are totally warm, even on cold snow. Who needs a down comforter or an electric blanket! Although I`m not sure if I could sleep naked under the fur blankets like the Inuit used to.
November 7, 2016
This is the view from my writing room`s window. In this barren landscape, the imagination can roam freely!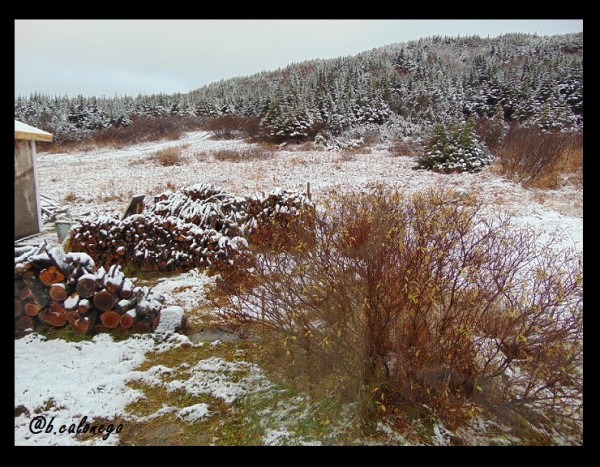 I am spending a little bit more time in Newfoundland, the location of my mystery novel "Stormy Cove" before heading back to the West coast of Canada.
This photo was taken before the snow fell.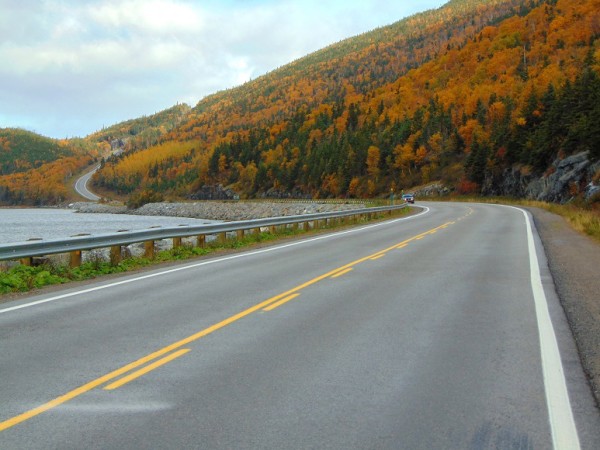 I am reading up a lot about grizzly bears, fascinating and scary animals and predators. The trophy hunt of grizzlies is still allowed in British Columbia, to my amazement, because grizzly viewing for tourists is financially so much more lucrative than killing grizzlies. In Newfoundland, there are no grizzly bears, only black bears.
I had watched grizzlies at Fish Creek in Hyder, Alaska, and in the Khutzeymateen Valley in British Columbia. But I realize now how little I knew about these powerful and mysterious creatures whose territory has been restricted more and more to small pockets of land. It will be exciting to have them play a role in my next book!
October 28, 2016
I am back in Canada, and in my luggage I had also packed wonderful memories of encounters with my readers in Europe.
The Club of English Readers in Zurich (Switzerland) invited me to a reading. They will discuss my mystery novel "Stormy Cove" in their next sessions.
It was great to answer their questions about the origins of "Stormy Cove", the making of a mystery novel and life in Newfoundland. So much interest and enthusiasm!
Thank you, Caroline Huerlimann, for hosting the event!
Here some pictures by Adriana Husy.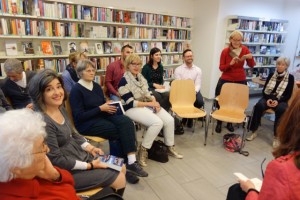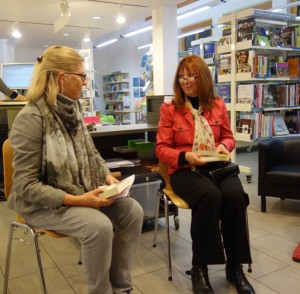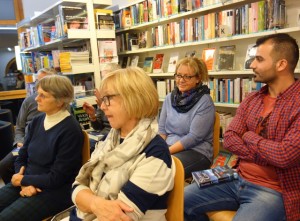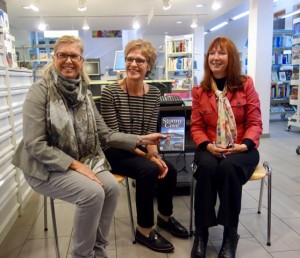 October 11, 2016
Successful reading in Zurich. Such a great audience! Memorable encounters and great chats at the end of the event. And so many interesting questions! It was lots of fun…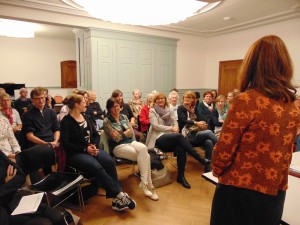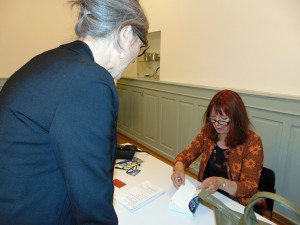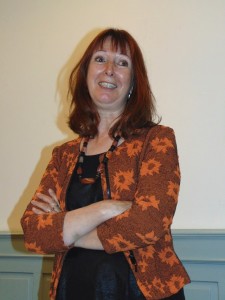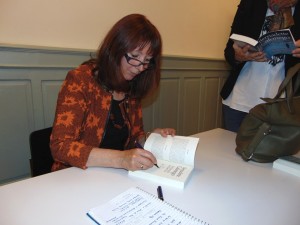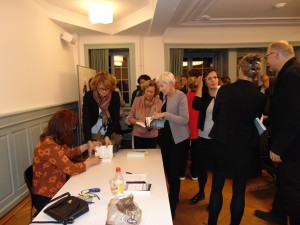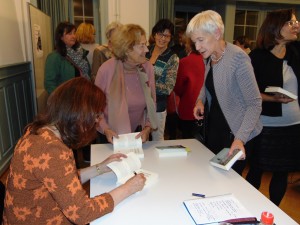 October 2, 2016
Faces in Northern Newfoundland, in places like "Stormy Cove":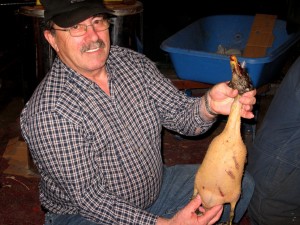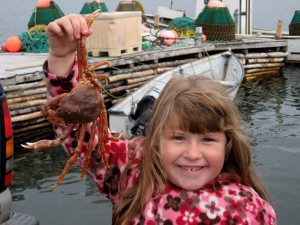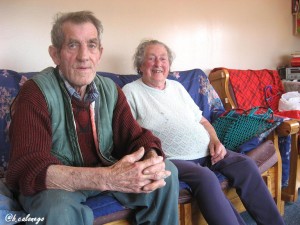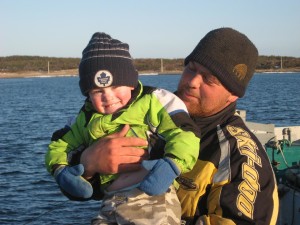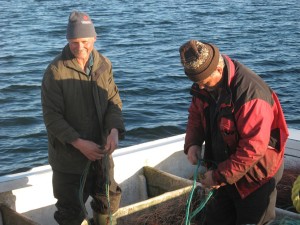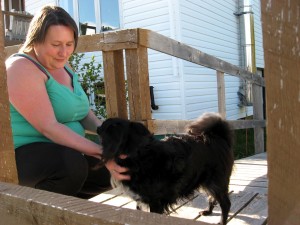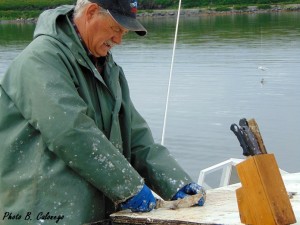 September 27, 2016
Preparing for winter in remote fishing communities like Stormy Cove, the town in Northern Newfoundland in my latest book.
September 24, 2016
I met my editor Franz Edlmayr at AmazonPublishing in Munich (Germany) who is such a dedicated professional and does wonders for my books. I am really lucky to work with him. We had a great conversation and I feel very appreciated as an author.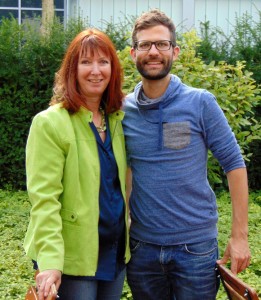 Strolling through downtown Munich, I took some pictures on this glorious, sunny day! (All photos Bernadette Calonego)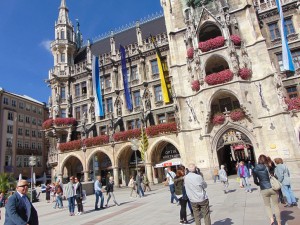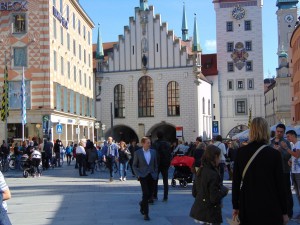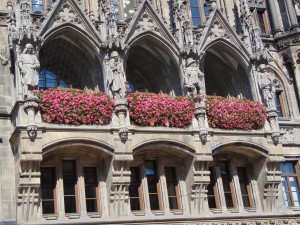 The traditional lederhosen (for men) and dirndls (for women) have been popular again in street fashion for a few years. Retro-look Bavarian style.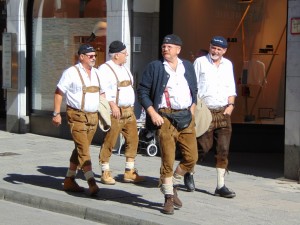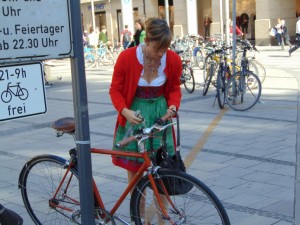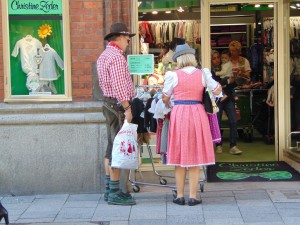 September 20, 2016
Today is the big day – the official release of my new thriller "Die Fremde auf dem Eis" (The Stranger on the Ice), by Amazon Publishing!
My friends opened a bottle of champagne for the occasion. In the evening, we ate a cheese fondue outside, underneath the arcades in the medieval city centre of Zurich.
Even Lester, my friends` new puppy, is happy for and with me!
And some very nice person cooked a feast for me: Italian pasta, fresh figs, Gorgonzola cheese, garlic, lemon juice, fresh cream, Parmesan cheese.
What a great way to celebrate a new release!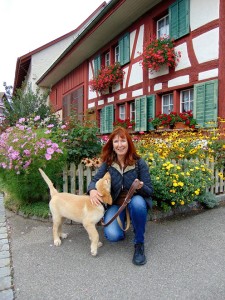 The new book can be ordered here.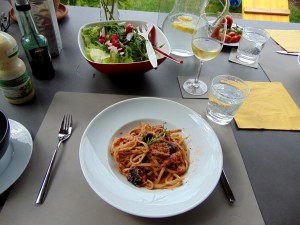 September 10, 2016
Here I am, the author of a book that is set in a freezing climate – and I am hot!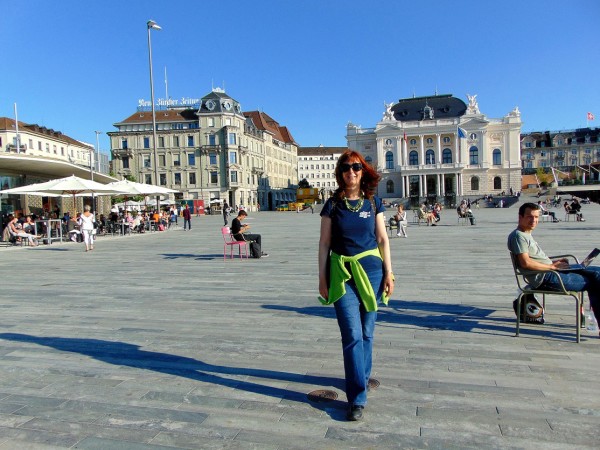 I have traveled to Europe for the launch of my new German book "Die Fremde auf dem Eis" (The Stranger on the Ice) on September 20. Zurich is my first stop and the weather feels like summer. I love it!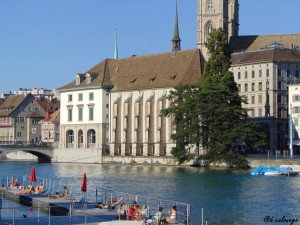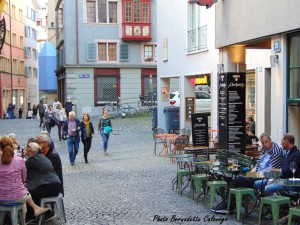 People (including me) are swimming in Lake Zurich and at night, they sit outside in the streets, dining and chatting. I know Zurich intimately because I had lived there for many years. It is a beautiful city, with such a lot of outdoor spaces and cosy corners. And avant-garde, too.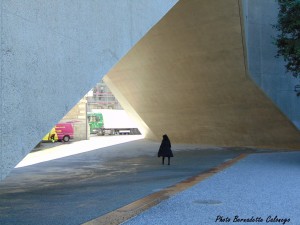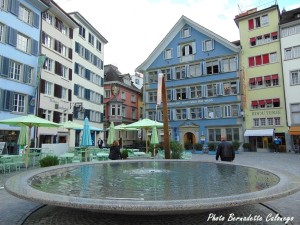 And the city planners try to make it even more stunning, always thinking how people will use the new plazas, buildings, parks, fountains. My first thriller "The Zurich Conspiracy" is set in this city, I couldn´t have wished for a better location for my writer´s debut!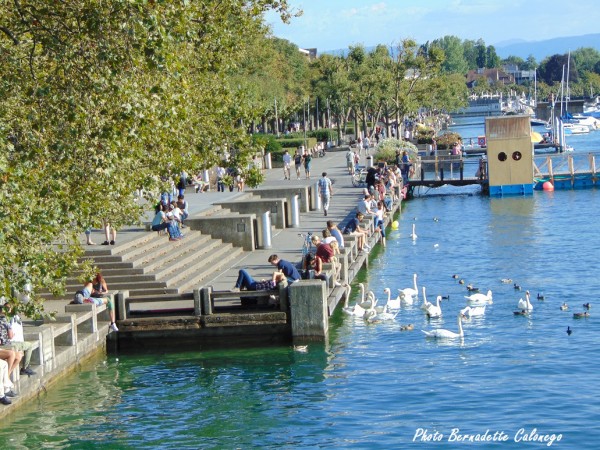 August 24, 2016
It is exciting that all over Canada, writers festivals have sprung up. What a great opportunity for readers and authors to meet up, close and personal!
I had the wonderful opportunity to read from my book "Stormy Cove" at the festival "Writers in Woody Point" in Newfoundland. This is a very intimate and popular multi-day-event that is attended by famous Canadian writers (and not so famous ones).
This year for instance, Lawrence Hill, author of the bestselling novel "The book of Negroes" was there, Donna Morrissey and Madeleine Thien. And rising star Megan Coles.
Shelagh Rogers, a prominent radio journalist who moderates the book program "The First Chapter" on CBC radio, has been the host of "Writers at Woody Point" for many years. She brings a lot of laughter, soul and experience to the festival. it was an honour to meet her.
I had the opportunity to read from my book "Stormy Cove", and it was kind of fitting that my novel is among the 100 most sold E-books on www.amazon.com these days.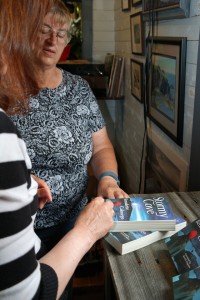 I love to interact with readers, and Woody Point, a quaint village in Western Newfoundland, is a very special place to do this. As you see in these pictures by Mariola Jolanta Adamowska.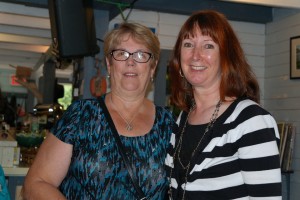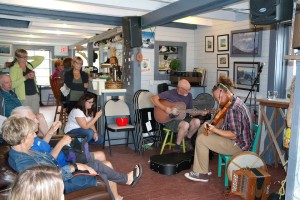 August 11, 2016
The chase after the wild berries has started in Northern Newfoundland. It`s almost like the gold rush, not as lucrative but more satisfying because everybody gets his/her berries.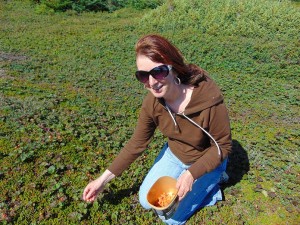 On a nice day with lots of wind (to keep the mosquitoes away), you can see people swarming out with all kind of containers. It is fun and you are out in nature.
I ventured out, too, and filled my container – although I am not a good picker because I eat most of the berries right away.
These berries are called "bakeapples" and they taste like oven-baked apples. But the name comes from the old French `baie qu`appelle" which means "how is this berry called?". Elsewhere it is named cloudberry (Rubus Chamaemorus).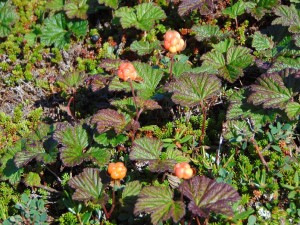 I boil up bakeapples and combine them with vanilla ice cream, but also with meat and fish – the options are endless…
In British Columbia, I pick blackberries (the non-electronic kind) and salmon berries (Rubus spectabilis).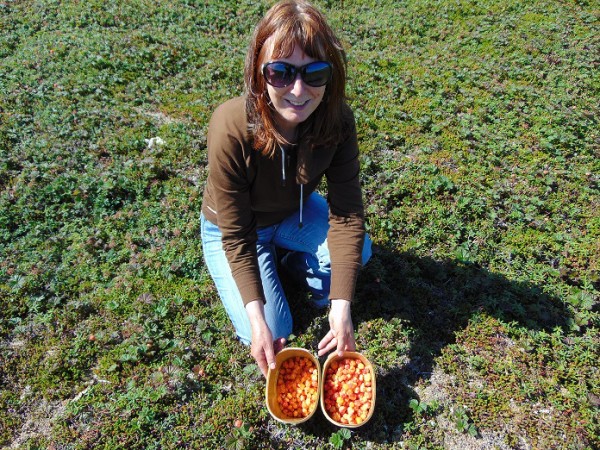 Photo @ Bernadette Calonego
August 3, 2016
These days, I could be Lori Finning, the heroine of my Newfoundland mystery novel "Stormy Cove".
My favourite fisherman (you know what I mean!!!) takes me out in his boat to watch and photograph whales on the North Atlantic. The coastal waters of Northern Newfoundland are teeming with whales, especially humpbacks.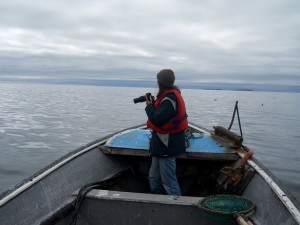 After a 30-minute-ride, we encounter a pod of humpbacks in a feeding frenzy. My fisherman thinks that they are feeding on cod. The whales don`t seem to care that we are there (we have silenced the motor). One swipe with their flippers would doom our small boat. But humpbacks are peaceful sea mammals.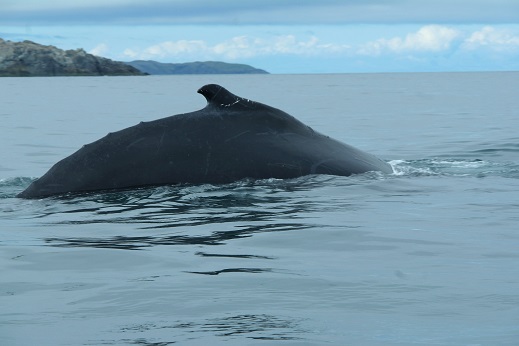 When the air sprays noisily from their  blowholes, the fishy smell on their breath goes right into our noses. They make interesting sounds: they grunt and moan and snor and puff. And they digest. When one of the whales comes to the surface, he leaves a thick brown soup behind.
The white, almost smoke-like spout is a sure sign of whales. The humpbacks follow a pattern: They emerge for a few times and you only see a small part of their backs. Then they begin to dive, they bend their backs like a hump that is lifted out of the water, like a curve. And now you know that within seconds, the tail will be up in the air. Following this show, for a few minutes, the whales won`t appear on the surface.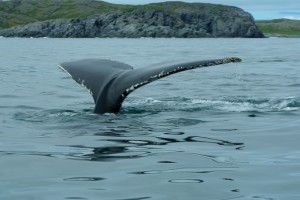 I am scanning the ocean to see where they will come up again. Sometimes, you can see water bubbles on the surface which gives their location away.
If you are very lucky, these gentle giants will rocket out of the water into the air and their massive bodies turn and hit the water. What a fantastic spectacle!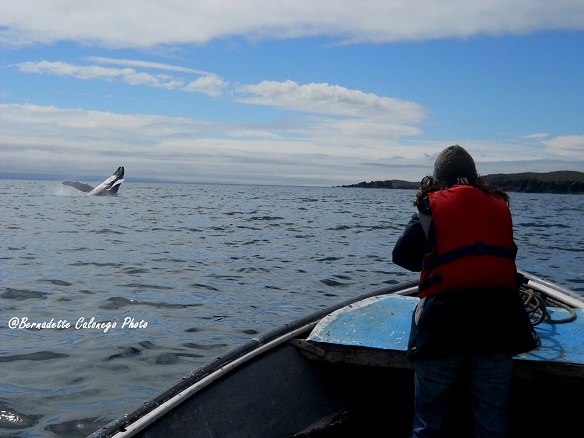 I hear a loud noise: The humpbacks clap their fins onto the surface of the ocean, probably to herd a swarm of fish that they are feeding on.
The fishermen on the Northern tip of Newfoundland say that they see more and more humpbacks every year. This would be a wonderful trend!
July 27, 2016
For my next mystery novel that is set in the Arctic – it will be published in German by Amazon Publishing on September 20 – I had to study Arctic fashion.
The Mother Hubbard parka is very popular in the Western Arcic. It is made of colourful fabric, trimmed with fur of wolf or coyote or beaver.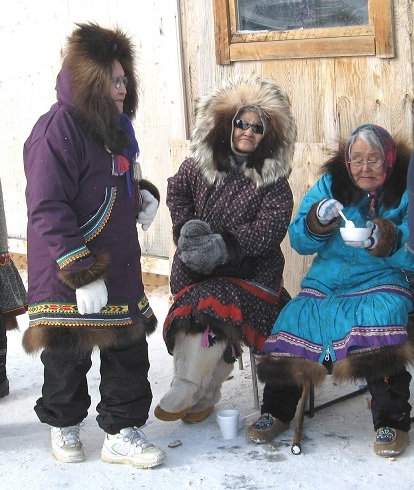 Local women like to wear this kind of traditional parka for special occasions, like the Muskrat Jamboree, the spring festival in Inuvik (Northwest Territories) near the Polar Sea.
The fur trim around the hood is called sunburst because it looks like sun rays fanning out. The fur keeps the cold from the face.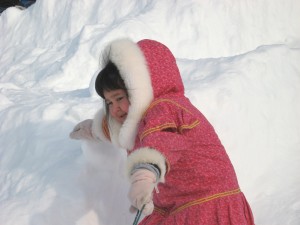 In Inuvik, I met a young German woman who had sewn her own Mother Hubbard parka. Her hood was trimmed with wolf and wolverine fur. She used beaver for a fur ribbon around the lower part of her anorak. The locals said to her: "This is a new fashion", because she had taken some liberties with details!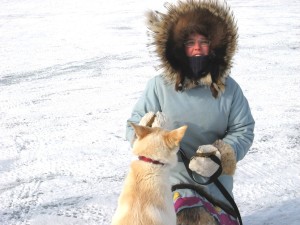 Some men like to have their own individual fashion style, like this man who took part in a harpoon throwing contest at the Muskrat Jamboree. (All photos @Bernadette Calonego)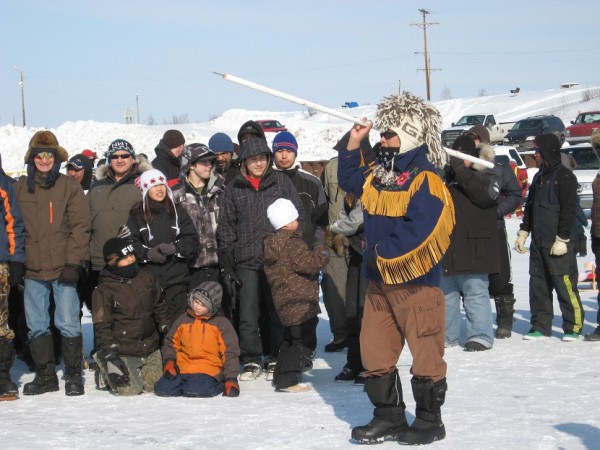 July 2, 2016
My life is an existence in contrasts, but I like it that way.
In Vancouver, I enjoy the comforts of big-city-life, and when I am in Newfoundland, I soak in nature and the wonders of the ocean and small-town-life.
In Northern Newfoundland, the capelin is landing on the beaches of the coves, followed by the humpback whales who feed on capelin. The locals love to catch the capelin, too. It is a joyful harvest for families, friends and neighbours.
In downtown Vancouver, I photograph groups who lobby for legalizing marijuana.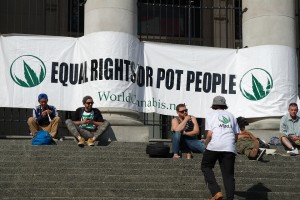 In Newfoundland, I take pictures of icebergs.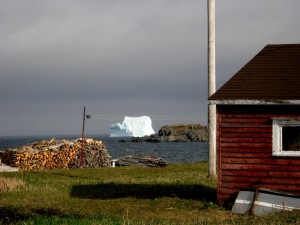 In Vancouver, I walk the streets and observe people.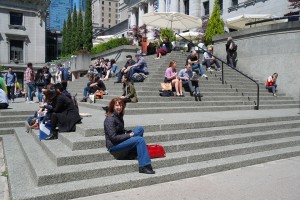 In Newfoundland, I walk the neighbours`s dog and observe whales. I think I have the best of two worlds in Canada!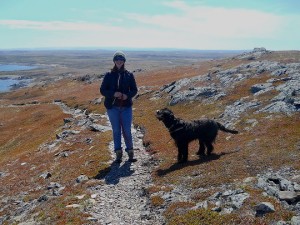 June 27, 2016
It is fascinating to meet people who read your books! Especially now, in the tourist season, I encounter readers from New York, Seattle, Australia, Great Britain, New Zealand – and Canada, of course.
I hear interesting stories about their travels, their lives, their families. Sometimes I dare to ask them to pose with my book, as a memory.
Here are some of the pictures that remind me of these wonderful encounters…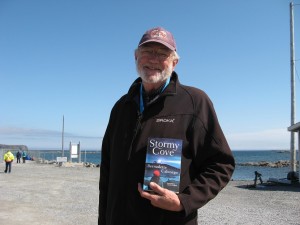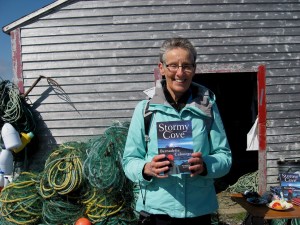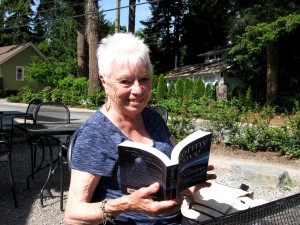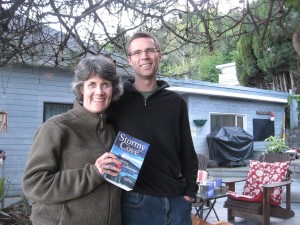 June 5, 2016
I am very happy reading the positive reviews about my mystery novel "Stormy Cove" on the Amazon website.
Here are some voices:
"Calonego has done an excellent job of characterization. Lori is not just a straight-forward narrator. She is a complex character with faults and weaknesses that come into play. Although initially tactful in order to not alienate the townspeople, she becomes more brash. I found the characterization to be a refreshing change from the usual mystery heroines who are either glib and irreverent or mousy."
"The tone and setting of Stormy Cove is absolutely perfect for this book, and the author uses vivid detail to make the story come alive. This is a story filled with mystery and suspense, a great cast of characters, and is a fast-paced, captivating read. Overall, this is a brilliantly executed story, and one I would strongly recommend."
"This is a well written, fascinating book. It grabbed me almost from the start and help my attention throughout. Lori's and Noah's characters are well developed, as is their growing friendship/relationship."
"I loved the way the author captures the beauty of the landscape and the atmosphere of the community."
"Stormy Cove, written by Bernadette Calonego, is a definite page-turner! This is the first book that I have read by this author, and I have to admit it was a wonderful surprise that exceeded my expectations. Once I started reading it, I wasn't able to put it down until the very end."
May 25, 2016
I`m an animal lover but I didn`t expect to be fascinated by a fish. When I saw the Northern cod for the first time, I was hooked.
What a beautiful fish!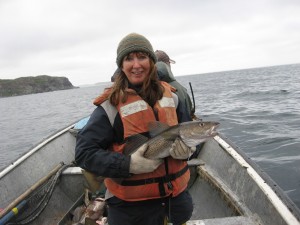 The cod played a crucial role in world history. And it plays an important role in my mystery novel "Stormy Cove". Centuries ago the cod fed Europe and kept its economy going. In the twentieth century the cod was overfished almost to extinction.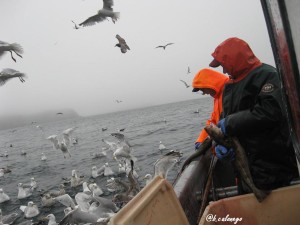 Today, the stock is recovering slowly. When I did research for my book, I went fishing with the small boat fishermen in Northern Newfoundland. It is an unforgettable experience.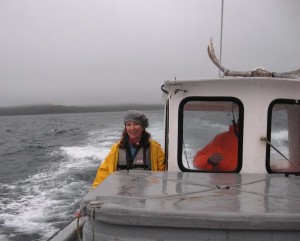 May 23, 2016
How does one celebrate the release of a new book? Tomorrow, my mystery novel "Stormy Cove" will be available around the globe (I like this geographically grand idea)!!
Does one have a fancy reception in an even fancier art gallery (or Roman castle or wilderness lodge, just to throw around a few ideas)? Tapas or smoked salmon from a caterer who is en vogue?
I can tell you how I celebrated the launch of "Stormy Cove".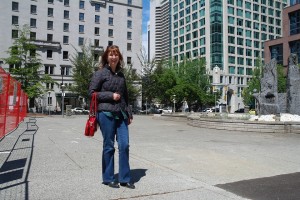 I strolled through Vancouver (photographer Lori Finning, the heroine of "Stormy Cove", is a Vancouver gal) and met up with Hanna Daber, my webmaster and heroic cancer survivor, at the cafeteria of the Vancouver Art Gallery.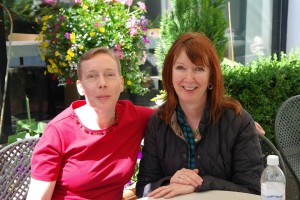 A Nepalese restaurant in Vancouver, "Yak and Yeti" on West 4th, was the next location where a group of my women friends were waiting for me. (I like to think that the location of "Stormy Cove" which is Newfoundland is as exotic to my readers as Nepalese food is to me!)
Then I was invited to a Swiss cheese fondue, and a friend opened a bottle of French wine (he was born in France) from 2005.
I think this was a great celebration, don`t you?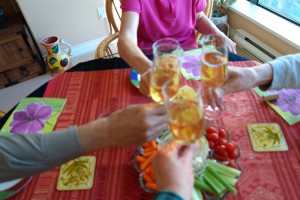 May 17, 2016
When you read my mystery novels, you will notice that my heroines (who are amateur sleuths) go on long road trips to unknown places where they experience lots of adventures.
They have to leave their comfort zone to do this, but it is an opportunity for them to reinvent themselves.
As a matter of fact, they do what I love to do.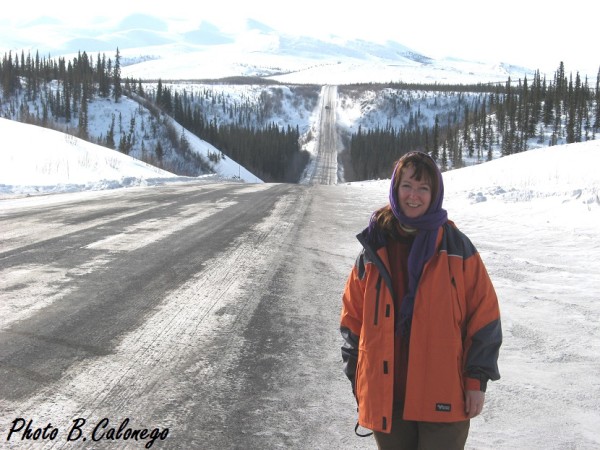 In Canada, there are a many roads that are adventures in themselves. For instance the Dempster Highway in the Yukon and Northwest Territories, the roads to Bella Coola or Telegraph Creek in British Columbia, the Trans Labrador Highway or the ice road across the frozen delta of the Mackenzie River.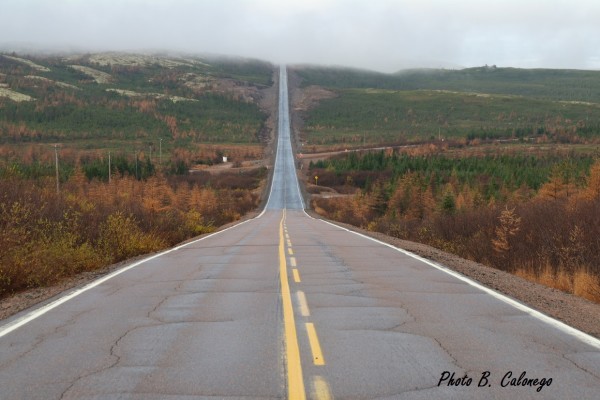 For the readers, every novel is a journey into unknown territories, and you meet people that you would never have met.
In my next mystery novel, the heroine will be traveling again and encounter exotic places and people and the journey will turn her life upside down.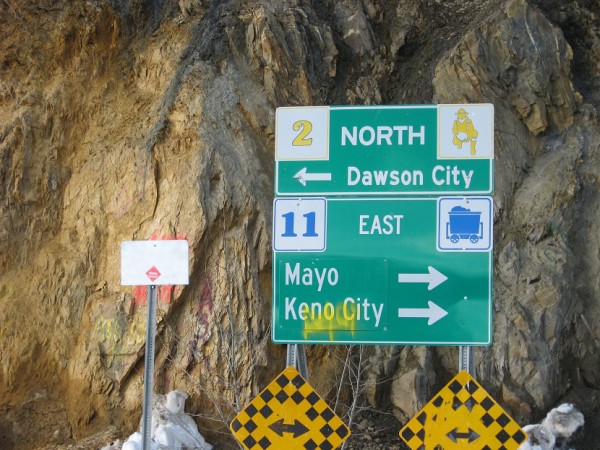 April 27, 2016
My new mystery novel "Stormy Cove" that is set in Northern Newfoundland will come out May 24.
I asked some hobby photographers who live in that area to allow me to post one of their pictures that evokes the mysterious wild atmosphere of Stormy Cove.
Here are some examples (for this batch I only chose black and white photos):
I invite you to read this review of my book "Stormy Cove". The reviewer calls my book "an evocative page turner" , "cleverly plotted", and she likes my heroine Lori Finning: "I found the characterization to be a refreshing change from the usual mystery heroines who are either glib and irreverent or mousy."
Read the entire review, click here.
April 8, 2016
Good things are happening these days!
I have just delivered a new manuscript to my publisher Amazon Publishing in Munich. It is another mystery novel, my fourth. It takes place in the Western Arctic of Canada.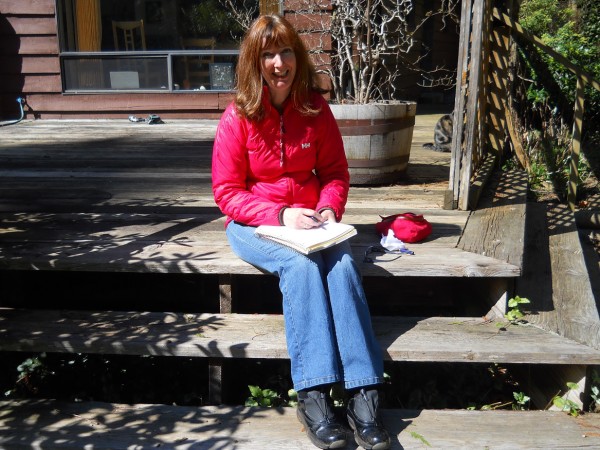 The writing process looks very much like in these pictures: writing, writing, writing, thinking about the plot, revising it, editing the written text several times, checking the facts and making sure, the details are correct (i.e. Do any polar foxes live near Inuvik? Do cell phones work in a hamlet on the Beaufort Sea? How much is a gold nugget worth these days?)
For months, I have been walking around like a zombie, my head sticking in my book, taking notes in the middle of the night, phone another expert in order to get the facts straight.
But now, it is done!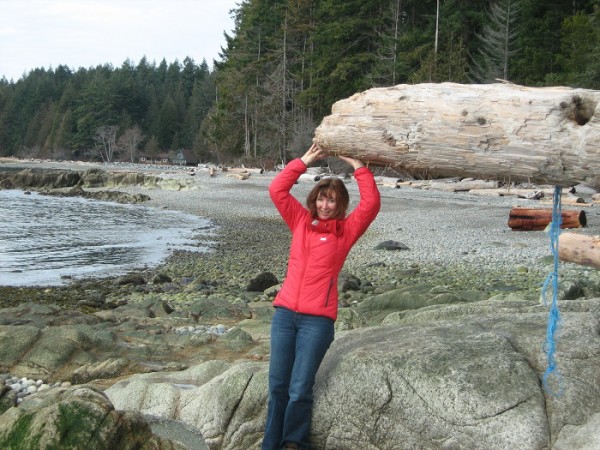 Time to look forward to the launch of my book Stormy Cove on May 24, 2016, published by AmazonCrossing. I`m so excited! It would be awesome if the readers in Canada, the U.S., Australia, Great Britain, Ireland a.s.o. loved the book as much as my readers in the German speaking countries.
Here are two voices from the Amazon website about the German version of Stormy Cove:
"Full of suspense, fascinating, incredibly well written. Captivating from page one to the last page. A suspense novel, that couldn`t be more gripping, right to the finish. With many crime novels, one knows after just a few pages how they are going to end. But with this book, the suspense lasts until the end."
"A very interesting and suspenseful story that not only gives you a mysterious murder plot but also a very good insight into the hard life of fishermen in Newfoundland."
Customers can preorder the E-book and the paper copy:
Preorder a copy here (Canada).
March 6, 2016
There are so many people involved in publishing my novels. They work hard to make a book a success. Have a look at the cover of my new book "Stormy Cove",  a mystery novel that takes place on the rugged island of Newfoundland. It will be published on May 24, 2016. One very talented person put a lot of effort into creating this wonderful cover that catches the mood of the book perfectly. To my delight, the designer even put a dog on the rocks!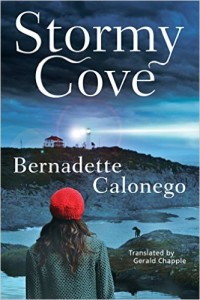 Recently, I also had the pleasure to talk to an amazing woman, the American actress and story teller Nicol Zanzarella who is recording the audio-version of "Stormy Cove". She has a wonderful voice and an admirable dedication to the job ahead of her.
I think Nicol has the right punch for telling Lori Finning`s story, the main character in the book, because Nicol is boxing in her spare time. I`m very impressed! Here you see her in action: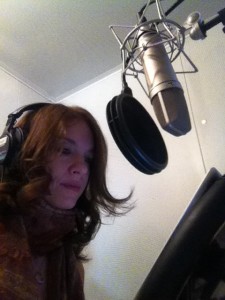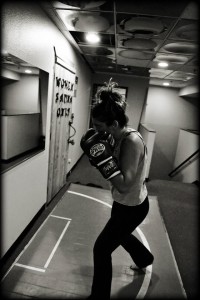 On her website www.nicolzanzarella.com, she writes that  she has "a secret dream to play a kick-ass cop on TV". I can totally envision her just doing that! For my part, I`m happy to have Nicol Zanzarella`s voice on my audio-book. It`ll make my story come alive for many readers out there …
February 7, 2016
For an author, it is very uplifting  to read messages like this one:
"I'm so enjoying 'Under Dark Waters' it is traveling to Cuba with me. It is so nice that not only do I have a mystery to solve but the story talks about places I know. M. mentioned she is going to the Library in B. this afternoon so I gave her the name of the book as she, too, enjoys mysteries. I looked on the downtown library website and they only have one copy of the book and five people are waiting for it!"
Cuba must be fantastic. Enjoy the holiday, dear reader – and my mystery novel.
For those who stay in Canada: What about a trip to our North, strong and free?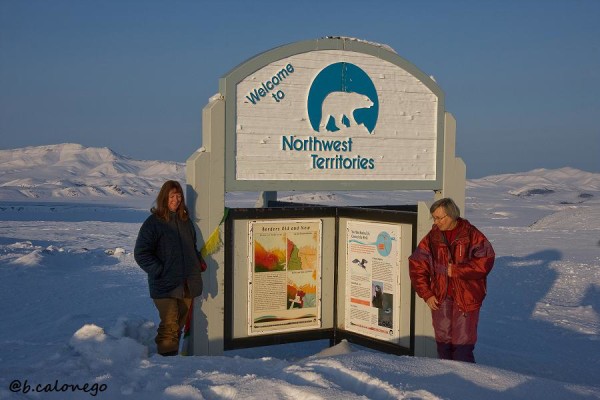 I find it wonderful when readers tell me that after having read my books, they really feel like traveling to and in Canada. I see my novels as a sort of "road movie", in which the main character travels across one or more provinces and encounters adventures and interesting or dangerous people. I`m adventurous and love to travel, too, and many of my experiences end up in my novels. Not in an autobiographical way, though, because I like the freedom to use my imagination. People and events in my novels are fiction.
But the details and the facts have to be authentic and correct, even if the rest is created by my fantasy. Right now, I`m working on a novel that takes place in the Arctic and Subarctic. It is really useful that I had traveled there and still have my notes (written with a pencil because ink would freeze fast in Arctic temperatures!) and lots of photos.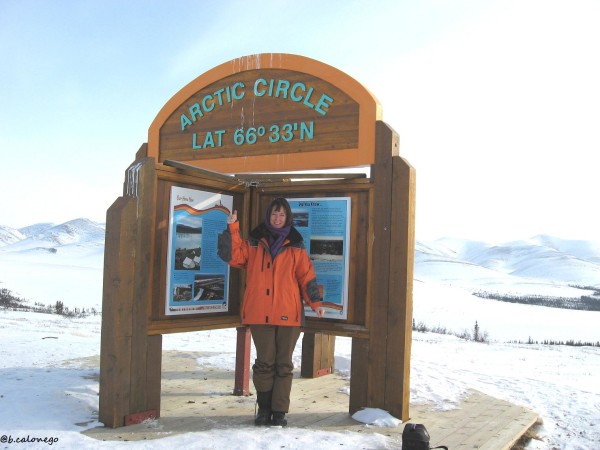 The famous Canadian pianist Glenn Gould (1932 – 1982) once wrote that Canadians are fascinated by the idea of the Arctic, an area that they dream about and spin tales about, but in the end, they avoid it.
As for me, I cannot wait to travel up there again – these were my most memorable trips that will stay with me forever.
January 7, 2016
You probably all know how an inukshuk looks like. What a simple but brilliant invention in a landscape where wanderers have to find the way to their destination!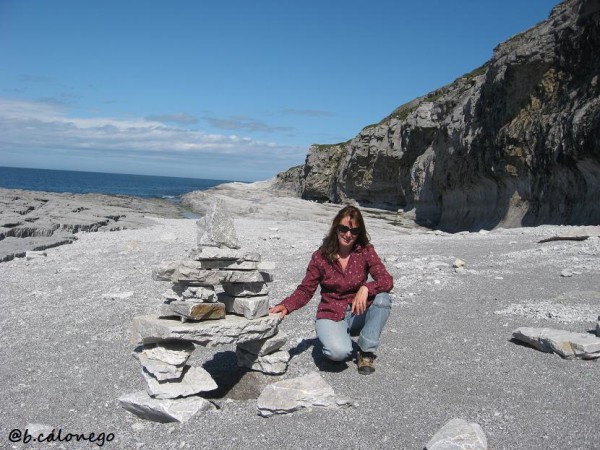 Today mini versions of the inukshuk have become popular souvenirs for tourists. But I`m still thrilled when I encounter a real inukshuk on my hikes.
Sometimes I wish there was an inukshuk for authors. For instance when I get lost in the course of writing a new book or when my plot doesn`t seem to work out.
If you, dear reader, knew how a new story can lead a writer astray, if you knew the trials and tribulations until a book is finished! Some people call it "creative chaos", but believe me, it can shake you up! (You notice my sense for drama here …)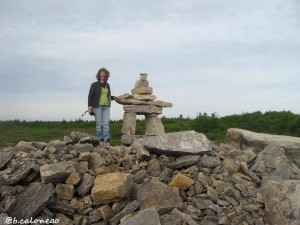 I know what I`m talking about because I`m in the process of writing a new book. Coincidentally (or maybe not!) there is also an inukshuk in the book. I wish I could extrapolate it from the manuscript and place it on my desk.
How goes the saying: The path is the goal? I really don`t know how it works but in the end, I arrive at my destination,the final chapter, exhausted but happy. And a new book is born.
For the Inuit in the Canadian Arctic, inukshuk means "something which acts for or performs the function of a person".
Why don`t we build an inukshuk for ourselves – this would be a very useful project and a huge help for the new year …
Have a successful 2016!
December 4, 2015
I would never have thought that my picture would be taken in front of a clothesline – as it happened to me in Northern Newfoundland. It was a cheeky snapshot – author dishing out (clean) laundry…
But when  a mystery writer decides to live in a remote fishing village for half a year, then she has to adapt to her environment. Even if it means to show off her wet clothes.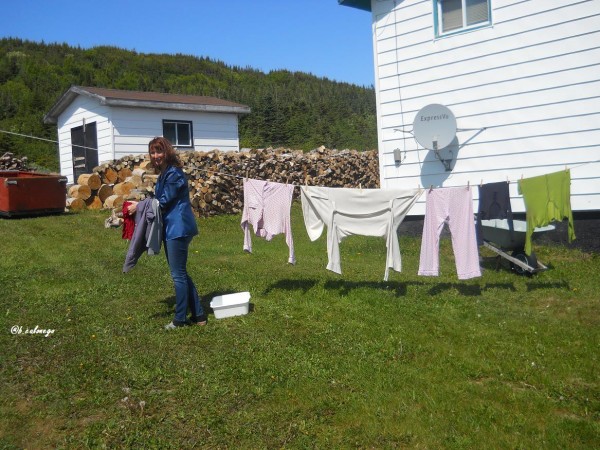 The local housewives in the North of Newfoundland have no problem displaying their laundry – so why should I have one? I love the perfume of clothes and linens that are dried in the sun and the wind.
But in contrast to this writer, the locals are masters in the art of hanging laundry on a line – perfectly symmetrical, extremely orderly and without any inhibitions whatsoever: bras and undies and other lingerie for all to see.
It makes for good photograpy, though. My American friend Deborah takes pictures of clotheslines with a passion – she has developped an admirable skill in hunting down these symbols of pride and tradition. The result is a wonderful calendar, I own one of them.
When I saw the clothesline below, I couldn`t resist to press the button on my camera. Clotheslines are very cheerful and they are able to lift one`s mood. Now that I`m in Vancouver again, I miss them.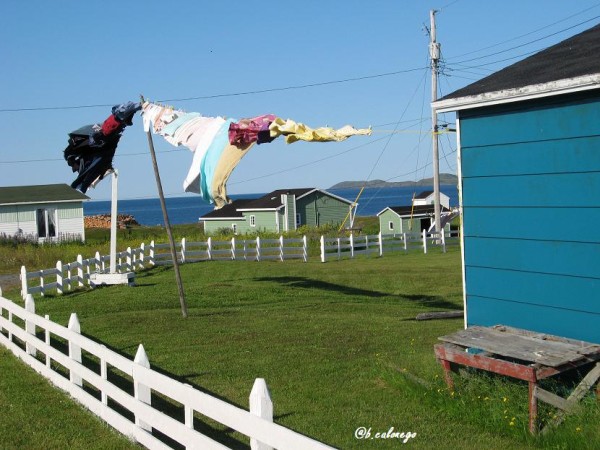 November 4, 2015
I`m just reading through the first draft of the English translation of my latest mystery novel "Die Bucht des Schweigens" (The Bay of Silence) and I`m in awe how my Canadian translator Gerald Chapple captured the essence of my descriptions of the stark Newfoundland landscape and transformed it into beauty, terror and significance.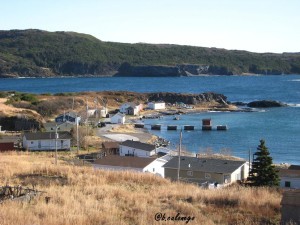 Gerald Chapple is such a prolific translator. When I read the English version (which will be published in a few months), it is like reading a new book. In my mind, I hike with the heroine Lori Finning, a photographer from Vancouver, through the tundra, over the hills and along the shore of the North Atlantic.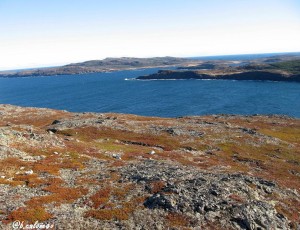 When I read the reviews of the readers who enjoyed the German original, I notice that the impact of nature, the harsh climate, the tough life conditions and the people`s very different way of life in a small fishing village in Newfoundland are mentioned over and over again.
It doesn`t really surprise me because that is what left a lasting impression on me, too, when I spent many months there.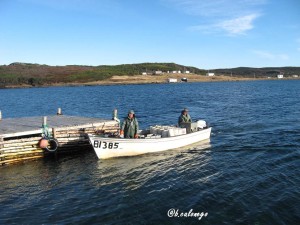 Kudos to the people who manage to survive in an often hostile and forbidding environment which requires such a lot of strength and endurance from them.
October 6, 2015
I find it very exciting to go to places that I have read about in books – and then I actually can see these locations with my own eyes. Buildings that are still standing. Paths that people who are long dead have walked on. Artifacts that they have touched.
This happened to me when I did research about Else Seel (1894 – 1974), the real-life poet whose life the heroine in my book "Under Dark Waters" is trying to track down. I drove to Burns Lake in Northern British Columbia in my truck and headed to Wistaria where Else had lived with her trapper husband and two children in a modest log cabin.
It was a sunny, warm fall day. I had to take a small ferry across Francois Lake to get there. The first building connected to Else was the tiny chapel on the side of the road. Elses`s chapel – still standing! The next building was the Wistaria community hall where she used to go for dances and meet her neighbours. The unadorned building triggered all kinds of emotions in me. Here it was, still in the same spot.
Most of all, I would have loved to see Else`s log home. But unfortunately, it disappeared in  Ootsa Lake that was filled up for hydro production and that swallowed some other homesteads, too. After her husband`s death, Else moved to Victoria and then to Vancouver.
But I took some pictures of the area as it looks today. Else had a hard time living here at the beginning of her marriage, coming from the big city of Berlin in 1927. But the landscape grew on her, and in the end, she got attached to it. I can see why. (Photos Bernadette Calonego)
September 13, 2015
I found this picture in my archive, and I find it quite funny.
The photographer Elaine Briere from Vancouver took it while we were in the Kutzeymateen valley in Northern British Columbia which is Canada`s only reserve for grizzly bears.
You see how I`m busy taking notes while everybody else is taking pictures from the zodiac we were on.
Although I like to take photos, too, (and I take lots!) my first instinct as a writer is probably to go for the written word first.
These notes were used later in my mystery novel "Under Dark Waters". I still have them and they remind me of the magic moment when they were taken.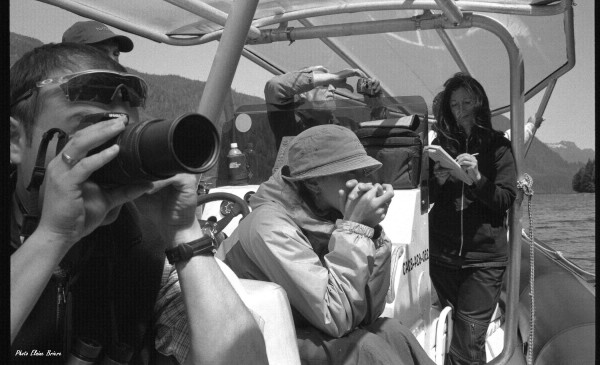 August 26, 2015
For once, leave the huge and uniform shopping malls on the side and visit a small corner store.
I love these quaint and unique shops that you find all over Canada if you look for them.
They are like remnants of a long forgotten past – but here they are, still open for customers like us who appreciate the small and unusual. (Photos B. Calonego)
July 24, 2015
I love to hear from readers! Don`t hesitate to contact me.
Here is a letter that really touched me, so I asked Sue Trathen from Ontario whether I could share it with you.
She wrote:
"Dear Bernadette,
I have just finished reading "Under Dark Waters" and wanted to let you know how much I enjoyed your writing. I am a great fan of both mystery and the west coast. So for me, the book was perfect. I have been to Vancouver and Vancouver Island many times. It has always inexplicably felt like home to the point, I cry when I leave. Unfortunately, I have not been back in a few years now and your vivid and loving description has brought all those feelings back. I plan to retire there in a few years and now realize, thanks to you, there is so much more I have to explore when I get there. Thank you for your beautiful writing.
Sue"
Thank you, Sue, for taking the time to write to me.
To my other readers:Let me know your thoughts, too!
July 16, 2015
There are a lot of forest fires in my home province of British Columbia. It must be terrible for the fire fighters and the people whose homes are threatened by the fires.
As I am traveling in Eastern Canada, I am far away of such calamities. It is an experience in contrasts: fire and ice.
Here some photos that show my fascination with icebergs (they will be in my next book, a mystery novel that takes place in Newfoundland).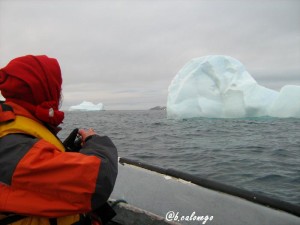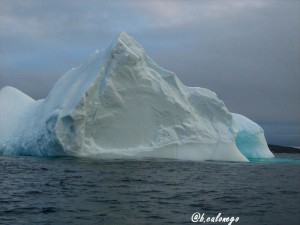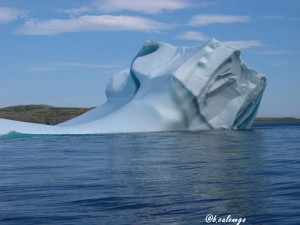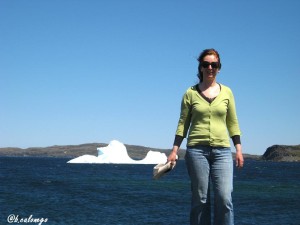 June 8, 2015
I feel privileged because I know the translator of my books personally.
Not many authors can say this.
I even went to see him and his wife in Ontario a few days ago. Gerald and Nina Chapple live in a 175-year-old house in Dundas (Nina, who is an architectural historian, had it lovingly restored.)
Gerald Chapple is an award-winning translator of German literature and he has a doctorate from Harvard. Now how`s that for an expert!
Gerald Chapple translated authors like Barbara Frischmuth or books like "Why Europe? Medieval Origins of its Special Path".
So I`m very proud to say that Gerald Chapple translated my books "The Zurich Conspiracy" and "Under Dark Waters" from German into English.
A translator is essentially rewriting a book which is a creative act in itself. When Gerald Chapple is in the process of translating one of my books, he includes me in his work and we exchange thoughts and ideas which we both enjoy thoroughly.
Now I can look forward to more long conversations with Gerald as he will be translating my next book, a mystery that takes place in Newfoundland and will be published next spring by AmazonCrossing. I`m such a lucky duck!
May 25, 2015
My new book "Under Dark Waters" starts in Vancouver.
So it was only fitting that I would accompany a German national TV team who had hired my as a stringer as they were filming part of a documentary about immigration in Vancouver, Surrey, Burnaby and Delta.
If you like to see a familiar city through fresh eyes, this is the way to go!
Vancouver certainly is a good place to see how different cultures live together peacefully. Here some impressions: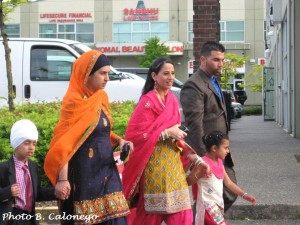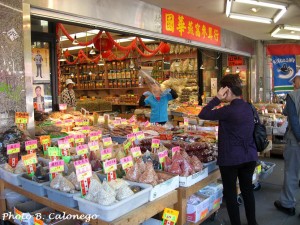 April 29, 2015
One of the fascinating aspects of writing is that an author gets in touch with people whom she normally never would meet.
Like Rupert Seel for instance, who happens to live only 15 minutes from my home. Rupert told me a lot about his mother Else Seel (1994 – 1974) , a poet from Berlin who plays an important role in my thriller "Under Dark Waters".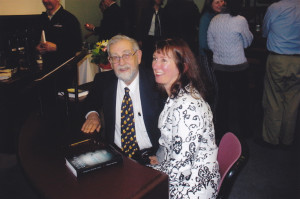 Or Marion and Alan Blackwell from Burns Lake: They were able to tell me a lot of interesting details about Else and her husband George Seel. I`m glad that I had the opportunity to meet them. I will never forget their hospitality and their willingness to talk to me although they were in the middle of moving house. Marion is 87 years old now and Alan 92.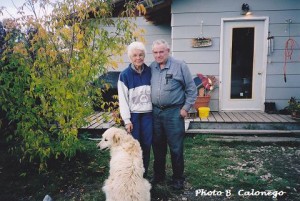 And this is a cat that I met! There is a cat in my new mystery novel "Under Dark Waters", a black cat, actually. For me, black cats are messengers of good luck. The black cat plays a tiny but crucial role in one of the scenes of the mystery.
April 14, 2015
My new mystery novel "Under Dark Waters" has been officially released. I`m excited – and nervous at the same time: Will the readers like it as much as I do? How will it be received? Will it take off in a very competitive market?
But there is also the joy of knowing that so many more people will read it and accompany the heroine Sonya Werner on her beautiful but dangerous journey through parts of Western and Northern Canada.
Here some pictures that I took while researching the book.
March 30, 2015
What a great moment! A parcel with some precious babies has arrived.
It is always very moving to hold a new book in my hands for the first time. My fingers are trembling.
"Under Dark Waters" will be in the stores and available on the internet starting April 14.
I hope my readers will love this book as much as I do!
Read an excerpt (Prologue). Click here.
Read the first chapter. Click here.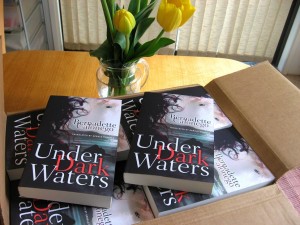 March 22, 2015
Canada is a young country, compared to Europe – when you look at the history of the white settlers and immigrants.
But it is nevertheless a country full of historical locations which are as fascinating as medieval castles or prehistoric caves.
When I recently traveled to Alert Bay, a native settlement on the island of Cormorant, on the East Coast of Vancouver Island, I was able to take a picture of a building that is being torn down. It symbolizes a dark chapter of Canada`s history.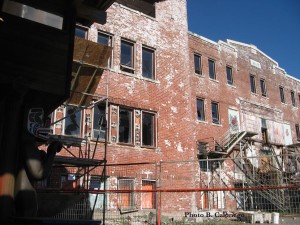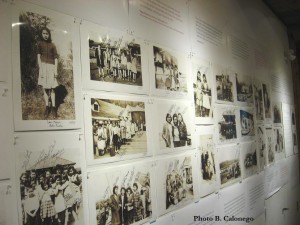 In the Residential School in Alert Bay, many, many native children suffered in the years between 1929 and 1975. They were taken away from their Indian parents and were often not allowed to see their families for several years. The Residential School in Alert Bay, like many of these schools in Canada at the time, was managed by a Christian church.
The teachers, educators and personnel acted too often as abusers of these poor children. They beat them, abused them sexually, terrorised them, disciplined them, punished them for speaking their native language. The culture of the First Nations should be driven out of these children, that was the intention of the governments.
In a special exhibition in the U`mista Museum in Alert Bay, I read the harrowing testimonies of adults who remembered their traumatic childhood. Today, it is hard to understand that this was possible at all.
But then, even today, many Indian children live in poverty, are neglected, discriminated, without hope and are searching solace in addictive behaviors. When will they have the same opportunities as most other Canadian children?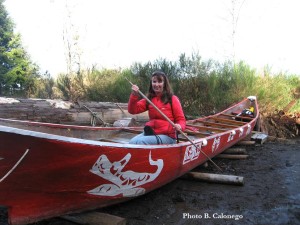 When I explored Alert Bay, I discovered this beautiful canoe. I couldn`t resist the temptation and sat in it. There was room for many more paddlers!
February 6, 2015
In downtown Calgary, you will find a monument that is dedicated to the "Famous Five".
Who do you think these Famous Five are? A hint: They are all Canadian women.
Are they famous singers Alanis Morrisette and Céline Dion? Or the former and only female Canadian prime minister Kim Campbell? Or writer Alice Munro who won the Nobel Prize for literature? Or Lucy Maud Montgomery (1874 – 1942)  who wrote one of the bestselling children books of all times, "Anne of Green Gables"?
No, the Famous Five are five women from the province of Alberta who petitioned the Supreme Court of Canada in 1927 to declare women as "persons".  At the time, legally, Canadian women were not considered to be persons.  And only persons could be elected to the senate.
In Canada, women have been allowed to vote nationally since 1919, but in legal matters, even in 1919, they were still not considered to be persons.
The Supreme Court of Canada didn`t want to change this. But the judgement was overturned in England by  the British Judicial Committee of the Privy Council (Canada at the time was still a British colony) in October 1929. From then on, Canadian women were officially persons!
The Famous Five, Emily Murphy, Irene Marryat Parlby, Nellie Mooney McClung, Louise Crummy McKinney and Henrietta Muir Edwards, never got a seat in the Canadian senate. But four months after the judgement in the British Empire, a woman from Québec, Cairine Reay Wilson from Québec, became the first female senator in Canada.
It took another 80 years until the Senate in Ottawa, in October 2009,  made the Famous Five Honorary senators.
Never give up!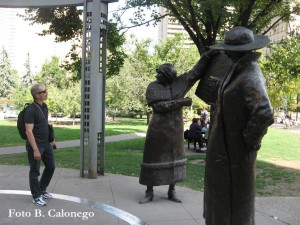 January 2, 2015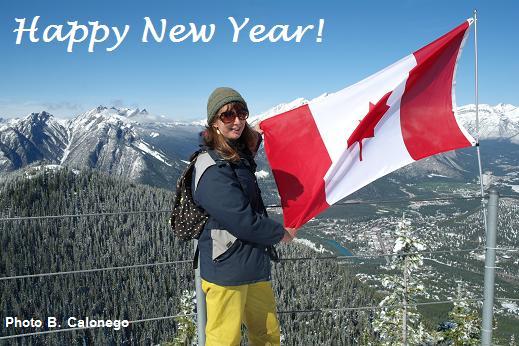 I wish you all health and happiness in 2015! May some of your dreams come true!
Surely, one of my dreams is realised by the publication of the new book "Under Dark Waters" in April.
Here two customs on the Sunshine Coast/British Columbia on New Year`s Day:
Floating candles that are sent out to the Salish Sea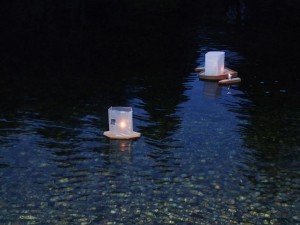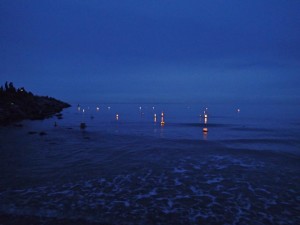 Polar Bear Dip in the cold water – nothing for the faint of heart!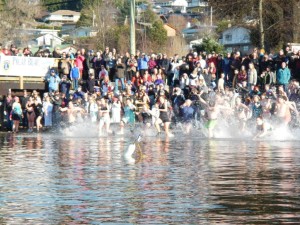 December 19, 2014
Today is a great day for me, I got a lovely Christmas gift: I can show you the cover of my new book "Under Dark Waters", a translation of my German mystery novel "Unter dunklen Wassern".
"Under Dark Waters" will come out in April 2015. It is published by AmazonCrossing (the second of my  books that AmazonCrossing had translated and published). The translator is the amazing Gerald Chapple.
To see the cover is always an exciting moment! I had the opportunity to make suggestions which is a wonderful thing that is rarely seen in the publishing world. Thank you, AmazonCrossing!
Do you like the cover as much as I do?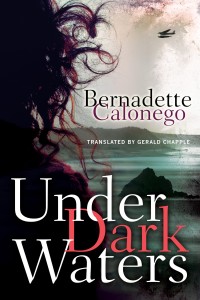 You can pre-order the book here: http://www.amazon.com/Under-Dark-Waters-Bernadette-Calonego/dp/1477828524/ref=sr_1_2?ie=UTF8&qid=1419017906&sr=8-2&keywords=under+dark+waters
Gabriella Page-Fort is the Senior Acquiring Editor at AmazonCrossing. She visited Vancouver a week ago and we met in the restaurant Boat House in Horseshoe Bay.
We had an interesting, inspiring and delightful conversation over coffee. What an accomplished professional Gabriella is. She speaks French and Spanish (beside English, of course) and navigates the international book world with such aplomp. Her knowledge of so many books in so many places around the globe is amazing, and her enthusiasm is palpable.
Gabriella and her team at AmazonCrossing are moving mountains for authors like me! Thank you, guys!
December 17, 2014
Typical winter weather in Vancouver. Rain, rain and more rain.
Some friends are fleeing Canada for the sun in Mexico, Cuba, on the Bahamas or Hawaii. I`m holding the fort in Canada.
But there are other ways to bask in the sun, if you ask me. I look through my pictures and go on a mind travel to hot places – in Canada, mind you.
Talk about Osoyoos in the Okanagan Valley where one can find a desert – yes! – and sand dunes. Or the Badlands in the province of Alberta. Or the beautiful sandy beaches of Prince Edward Island.
Here are some memories of sunny warm weather in Canada:
November 11, 2014
I am fascinated by some of the signs that I see in Canada. Here four examples: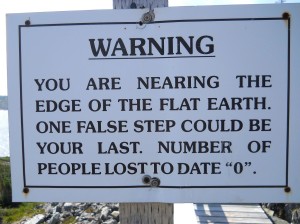 Sign on Fogo Island, Newfoundland, Eastern Canada, Please take it seriously!
Who says that dogs cannot read?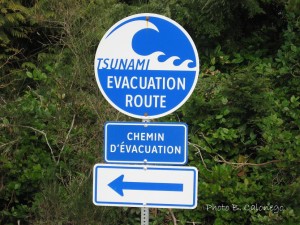 Tsunami warning near Tofino on Vancouver Island.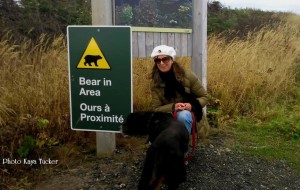 We did not see a bear that day but a moose bull chasing a  cow.
September 27, 2014
I had the great pleasure to travel with two of my brothers from Switzerland and show them part of Western Canada.
These guys are very curious and full of enthusiasm. They asked me tons of questions. I have to admit that I didn`t know all the answers, even after fourteen years in Canada.
In the Rocky Mountains.
As their tour guide, I tried to meet all their expectations: Only one important thing was not available: a bear. Not one single bear! And no moose! But we saw a lot of wild animals, some up close, like a buck with a seven-ender.
In den Badlands of Alberta – safe from rattle snakes and poisonous spiders that live there!
My brothers took thousends of photos. How could they resist? There were fantastic views everywhere – and motives galore.
Mountain goat on the helicopter pad!
"There is only one remedy", I told my brothers, "come traveling with me again!" I hope they will!
August 17, 2014
Good news: The publisher AmazonCrossing will launch an English version of my German book "Unter dunklen Wassern" (Beneath Dark Waters).
Following  "The Zurich Conspiracy", this is the second of my  books that AmazonCrossing will publish in English.
I am very looking forward to working together with the team ofAmazonCrossing.  I will also have the great pleasure to discuss and exchange ideas with my superb and wonderful translator Gerald Chapple from Canada.
A new literary adventure is awaiting me!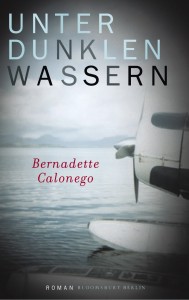 Here a teaser:
New book: "Unter dunklen Wassern" by Bernadette Calonego
Imagine, Else Lübcke Seel, a poet from Berlin and daughter of a former great landowner, travels to Canada in 1927. On only the second day after her arrival in Vancouver, she marries a trapper and henceforth lives with him in a log cabin in British Columbia`s wilderness. For almost ten years, through her yearning for an intellectual soul mate, she ex-changes letters with the ostracized American poet Ezra Pond.
It is not surprising that Bernadette Calonego, a Vancouver-based foreign cor-respondent for German, Swiss and Austrian newspapers, could not resist this theme.
In her second novel "Unter dunklen Wassern" (Verlag Bloomsbury Berlin), she transforms the real-life-material into a thriller with a fictitious modern hero-ine: A Swiss historian named Sonja Werner travels in the footsteps of Else Seel in Western and Northern Canada.
But secretly, the heroine also wants to find out why her own husband had died in a floatplane crash near Prince Rupert three years before. She is also curious as to why her best friend Odette had vanished that time.
The adventurous and dangerous search takes the heroine to such authentic places as Vancouver, Haida Gwaii and a camp of prospectors digging for diamonds in the Arctic.
Bernadette Calonego has been working as a foreign correspondent in Canada since 2000. The newspapers she writes for include Süddeutsche Zeitung in Munich. "Tages-Anzeiger" in Zurich and "Der Standard" in Vienna. Her first book "Nutze deine Feinde" was published in 2005 by Bloomsbury Berlin. Her books can be purchased through www.amazon.com
More information and excerpts can be found on her website www.bernadettecalonego.com
(Photo below @ Bernadette Calonego)
Bernadette Calonego in Newfoundland.
July 13, 2014
Why does it always have to be lush and green? Personally, I love rugged beauty.
Like the Canadian tundra. I love, love, love the tundra.
It is so beautiful in its vulnerability and reduction to the essential.
And sometimes it just happens that some caribou walk in front of your camera! This is your lucky day.
Just pray for a strong breeze to keep the mosquitoes away!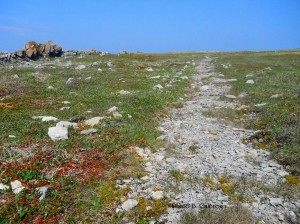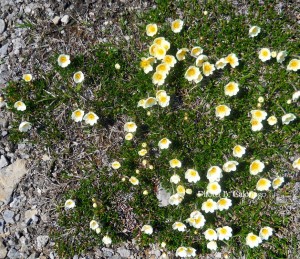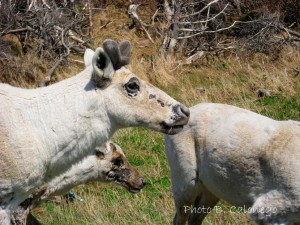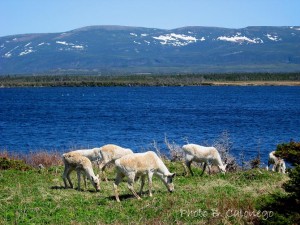 June 7, 2014
Talking about dream homes: Vancouver real estate gets more and more expensive. The most expensive city in North America, to be precise. More expensive than New York City. Go figure.
The average price of a single-family home is 1.3 million Canadians dollars.
The average yearly income is "only" 70000 Canadian dollars.
Which begs the question: How do they do it???
I comfort myself with taking pictures – it is cheap and fun!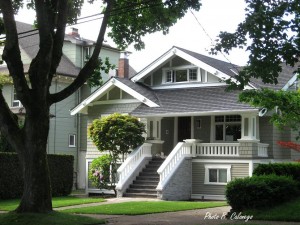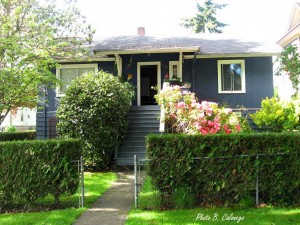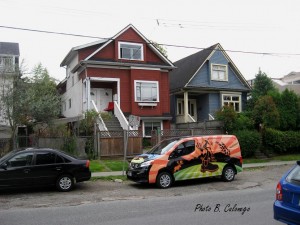 May 30, 2014
I proudly count the Sechelt First Nations as my neighbours in British Columbia. I know that some people think the word "Indian" is politically incorrect. But they use it themselves, as this picture proves!
The Sechelt First Nations don`t live on a reserve anymore, they have chosen the status of a municipality which was a first for Indians in Canada.
They have self-government, they make decisions in a democratic process and can vote on matters regarding their municipality.
In exchange for their political and economic independence, they live more or less without financial support from the government in Ottawa. Not that they desperately need it, because they have become very successful.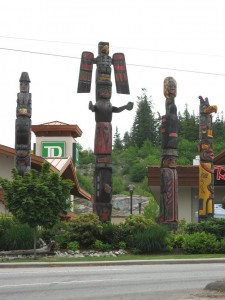 The Sechelt First Nations are the owner of a large gravel pit and a dock where the ships are loaded with gravel . With this business, the 900 Sechelt Indians earn an yearly income of about 1.5 million Canadian dollars. The people who run the gravel pit pay taxes to the Sechelt Indian Band.
The Sechelt First Nations also own a new mall. They had it built for nearly 18 million Canadian dollars.
It is good to see that not all indigenous people in Canada live in poverty. Some own first class golf courses, others wineries and other successful businesses.
So there is hope for the future of First Nations who lived in Canada before all of us.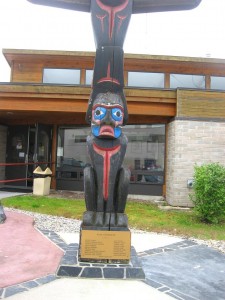 April 28, 2014
Those who read my blog have probably realised by now that I love to hike. Wanderlust they call in in German (there is a travel books store in Vancouver with that name).
Off the beaten track – in Canada, this often means boardwalks because of sensitive vegetation or swamps (or beavers creating floods).
Some really dedicated people must have put in a lot of sweat and time,  and all this for hikers like me who now can reach areas that otherwise would not be accessible. Thank you, guys!
Here some boardwalk adventures: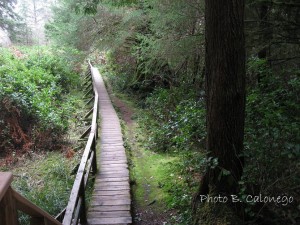 Rainforest in British Columbia
March 30, 2014
It is an enigma to me but for a person who grew up in a landlocked country like Switzerland, I am strangely addicted to some body of water: either a large lake or – even better – the ocean.
Fortunately, I live only three minutes away from the Pacific Ocean on Canada`s West coast. There is always something to watch. Tug boats with barges, bold eagles fishing for food, seals or sometimes even whales. And humans in boats and kayaks.
Speaking of tug boats. A friend of mine who has a good sense of humour likes to mislead foreigners about Canadiana that they do not understand. Sometimes there is quite a distance between the tug boats and the barges with their fright, and you cannot see the steel cables connecting them. So when visitors from Europe ask my friend how the barges can move across the water, he tells them they are remote-controlled!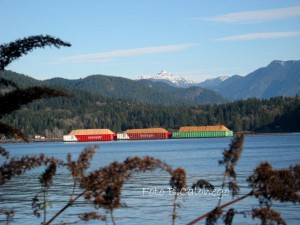 February 28, 2014
Do you feel the need to put things into perspective? Come with me to the "Land of Tall Trees".
Vancouver Island is good place for this. These trees are so gigantic, you cannot see their crown from where you are standing. Especialy the red cedars are impressive.
Don`t even attempt to be a tree hugger. You would need ten people to go around their huge stems.
Only when they lie on the ground, after a storm has felled them, one can measure their enormous size.
The feeling in their presence: I felt dwarfed. And I felt great.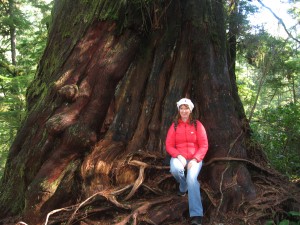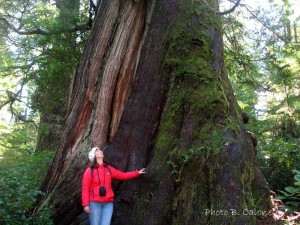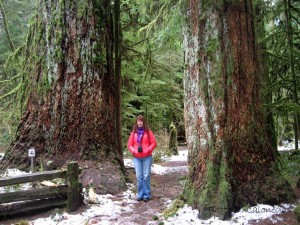 January 30, 2014
Time flies! Is it already four years since the Olympic Winter Games in Vancouver and Whistler? Please, don`t make it true.
Recently, I came across a few photos in my archive that reminded me of an incident that I had already forgotten about. I was waiting at a bus stop in downtown Vancouver when a large group of protesters blocked the street.
Some of them picked up newspaper boxes and threw them into the shop windows. The sound of shattering glass scared bystanders.
Vancouver and street violence – it was  big news in all international newspapers. Of course, I had my camera with me and took these shots.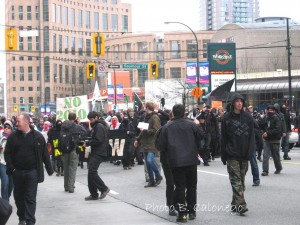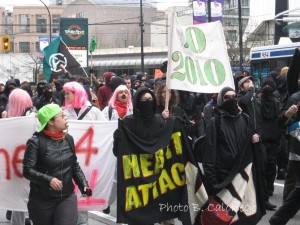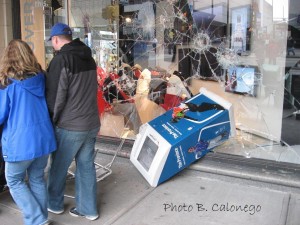 In June 2011, similar scenes occured in Vancouver, when angry fans of the local hockey team Vancouver Canucks erupted in violence in downtown Vancouver after the Canucks had lost to the Boston Bruins in the Stanley Cup Final.
But let`s end this with a more peaceful picture. Here it is: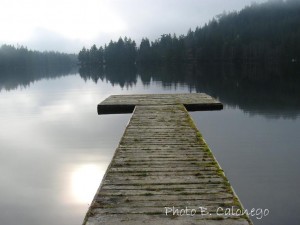 And now three reviews about the book "The Zurich Conspracy" from the Amazon website:
"I read this book on a long flight. Typical of books in its genre, this book neither shines nor remains terribly memorable. The plot is fairly sturdy and the setting really makes the story come alive. I felt there was enough action to keep me turning pages but I grew a bit bored with the repetition and had to put the book down a few times.
Set in Switzerland, the book invokes some interesting imagery and the characters are just interesting enough to make me want to learn more. Alas, many of the characters remain shallow. I sympathized with the heroine, easily able to identify with the perils of a corporate environment.
Taken as a whole, the setting really helped propel the plot and there was enough of a mystery to keep me engaged. Although it is not one of the best books I've read, it did leave me satisfied. I would recommend it for a leisurely read."
…………………
"I just finished this book and it only took me a couple of days to read it on the way into work and at lunch. Engaging and interesting murder mystery and it took me awhile to figure out who the killer was – I can usually tell pretty fast in some other mystery thrillers -held my attention, good characters with nicely developed personalities. Set in Switzerland so nice descriptions of scenery too."
…………………………
"This book is fast-paced and an interesting read. The translation is excellent. Calonego writes with authority and one feels she is absolutely familiar with the everyday trappings and machinations of the business world."
December 31, 2013
Let`s squeeze something in here before the new year starts.

It won`t be a huge story because my website has been revamped (don`t tell me you can`t see it! ) and I still try to find my way around.
This might very well be my only snow picture of my place because where I live there is hardly any snowfall . And yes, it is still Canada but the Sunshine Coast. Now you know why.
I wish you all a great start into 2014. Believe me, it cannot get worse than this, so it is all upward from now on!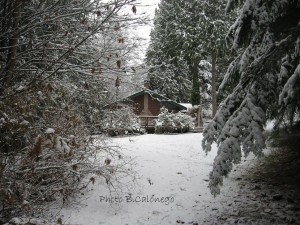 November 27, 2013
I used to hate ski-doos when I was snowshoeing.
I still do, except when I drive one.
Snowmobiles don`t really agree with my concept of moving quietly in nature. But sometimes nature is stronger than well-meaning concepts.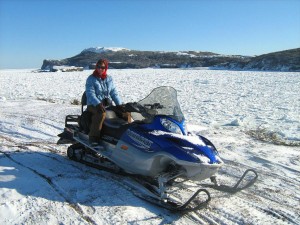 In remote areas in Canada, when the snow makes raods impassable, you are forced to move around on a ski-doo – unless you are the owner of a dog team. Believe me: I have no talent for dog sledding.
It is not a coincidence that the ski-doo was invented by a Canadian.
In the meantime, I came to realise: Snowshoeing is nice, but it takes you only so far. (In my case, not very far.)
October 15, 2013
Reason to celebrate!
Canadian author Alice Munro has received the Nobel Price for Literature!
She really deserves it.  Alice Munro is one of my favourite writers. As a Swiss-Canadian, I am very proud of her.
I should send her some Swiss chocolate, imported by Swiss Master Chocolatier in Toronto. It is way better than champagne. It is even more delicious than it looks (if this is possible).
 More good news – The Zurich Conspiracy is being featured in this month's Kindle monthly deal in the category "Mystery, Thriller & Suspense." During this promotion, the price is set to $1.99.
Click on this link to purchase it online:
http://www.amazon.com/Zurich-Conspiracy-Bernadette-Calonego/dp/1611090938
It cannot get better than this! Excuse me, I have to go and eat some chocolate …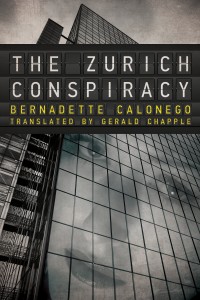 September 30, 2013
Not everything is gigantic in Canada (but almost everything).
Take Prince Edward Island for instance. PEI is Canada`s smallest province.
You can drive across the island and back in one day.
Not that I would recommend it. There is a lot to see there, not only cabbage and patato fields.
And there are interesting people. Harold Hackett for instance.
Harold has launched 6560 messages in a bottle into the North Atlantic. So far, more than 4000 people who found his bottles on the beaches, have written back to him. Some as far as Norway or New Mexico. What a success rate!
The locals call Harold The Bottle Man.
Speaking of which: On Prince Edward Island, you will find three houses built with bottles and mortar.
There is no limit to human creativity!
August 23, 2013
I was invited to a Canadian wedding, and this was the decoration on the wedding cake!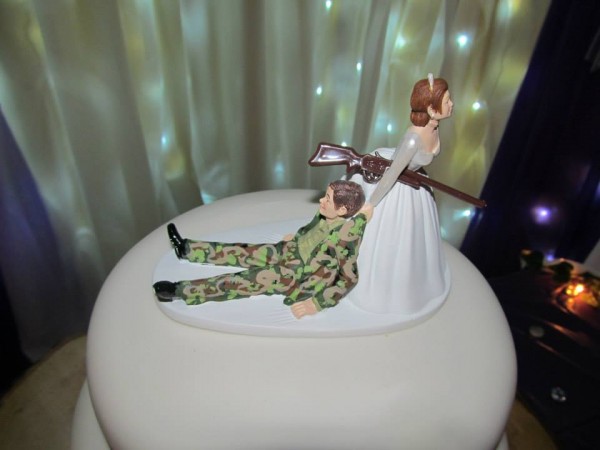 A reader from Switzerland wrote these wonderful lines to me:
"Hello Bernadette Calonego,
I have just finished your book "Unter dunklen Wassern" (Under dark waters) . I almost could not put it down. (…)

Canada is like another homeland to me. I try to spend at least three weeks every year there.  But I visited Western Canada only once, I am more in love with Eastern Canada.
Now I am going to buy your book "The Zurich Conspiracy" and I am looking forward to reading your new book that takes place in Newfoundland.
Sunny greetings,
Sylvia Flury from Stans
August 19, 2013
Summer!
Is there anything more enjoyable than going on a hike with a group of nice women on a sunny day?
And afterwards sitting around a table in a cosy coffee shop and have a mocca and a piece of partridge berry pie?
There`s hardly a place better suited to do this than Newfoundland!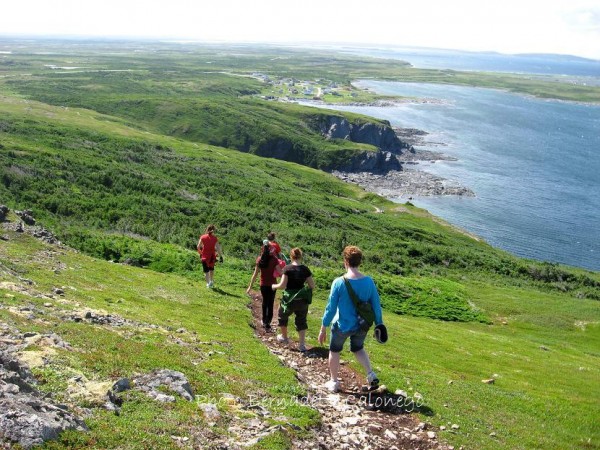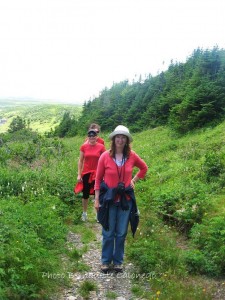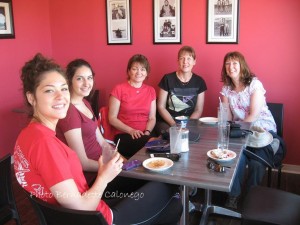 July 8, 2013
These kind words make my day!
Dear Ms.  Calonego,
 I enjoyed your book "The Zurich Conspiracy". I could not put down your next book "Unter dunklen Wassern" (Under Dark Waters). I have finished the book and I am sad that it ended.
Many, many thanks.
Gaye Sweet, Vancouver
Here is a picture of a recent outing:  chasing icebergs in Newfoundland! From now on, there are iceberg ice cubes in my drinks …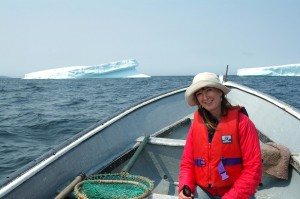 June 24, 2013
When I visited Calgary two weeks ago, I would not have dreamt that this city would be flooded soon after.
Hopefully, life will be back to normal soon for Calgarians and my friends who had to be evacuated for a few days.
Here are some photo impressions from before the desaster.
There are funny perceptions about some places, for some strange reason, Calgary is called Cowboy City (its citizens will probably cringe when they hear this!).
I tried to spot some cowboys. Here is the result: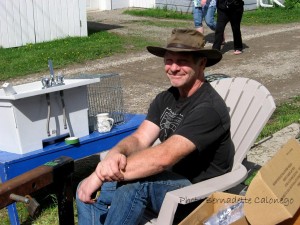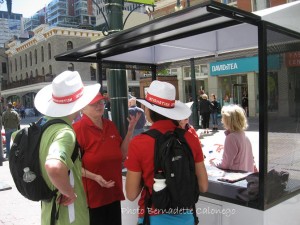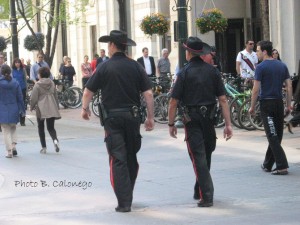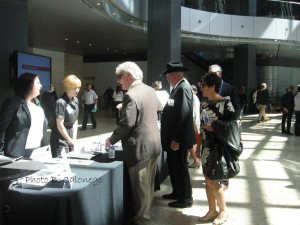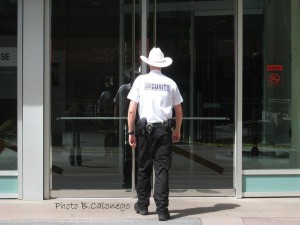 May 28, 2013
There is hardly anything that makes me as content as reading a great book, a couple of free hours and of course some chocolate in any form and shape (it can be hot and liquid and with some whipped cream on top).
A few days ago, I ventured onto the website www.goodreads.com, so I can hear from books that I probably would not discover without it.  At least that is my hope. Because I am a reader as much as I am an author.
I don`t know about you but I often surf the internet, trying to find a book that would interest me. Rarely, the objects of my desire are found on the bestseller lists (sorry, Dan Brown!).
Now, I can write reviews about my favourite books on GoodReads which is fun.
Some of my most treasured copies were shipped in a container across the ocean when I moved from Europe to Canada, because it would have broken my heart to part with them. They are old, dog-eared and the covers are torn, but that makes them even more valuable for me.
I took a picture of three of them: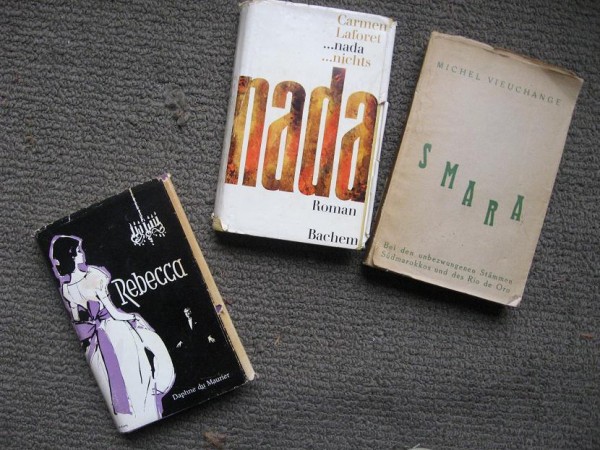 They are in German but there are English copies, too.
I think I don`t have to introduce "Rebecca" by Daphne du Maurier. It is a classic.
But the novel "Nada" by the Spanish autor Carmen Laforet is probably not so well-known.I burrowed this copy, published in 1959, from my mother and she never asked it back.
I discovered that there was a relatively new edition in English around 2007.
Read a review about "Nada" by Carmen Laforet. Click here.
I don`t know how old my copy of  "Smara" is,  written by Michel Vieuchange, it does not say in the book. But I guess it easily could have been published in the Thirties. In the back of the book, there is an old map attached, printed on thin paper. The story in the book is true, it is the diary of Vieuchange, a 26-year-old French adventurer, who – disguised as a woman – travelled in 1930 to the forbidden desert city Smara (today in Marocco).
There is an English version of the book, and you can find it on Amazon. Here an introduction:
"They say all true stories end in death. Smara, The Forbidden City is a true story. In the fall of 1930, a young Frenchman named Michel Vieuchange staggered out of the Moroccan desert into the town of Tiznit where he collapsed, wracked by dysentery; a few days later, he was dead. Two months earlier, on the evening of September 10, Vieuchange had stripped off his European clothing, draped himself in the costume of a Berber woman, and set off into the unexplored regions of southern Morocco. His goal: discovering the mysterious ruins of Smara, a great walled city that had been built and then abandoned centuries before. Mentioned only as a stopping place for nomads, the city's exact location was not known, and no European had ever laid eyes on it. Vieuchange was determined to be the first.
Driven by romanticism, the poetry of Rimbaud and Whitman, and the philosophy of Nietzsche, Vieuchange sought to test himself against the dangers and discomforts of the North African desert in pursuit of a dream. At that time, warring tribes inhabited southern Morocco, and travel there was a perilous undertaking. Speaking neither Berber nor Arabic, Vieuchange wandered for weeks in the desert at the mercy of his guides. When at last he reached Smara, he could stay for only three hours. Was this brief glimpse of a ruined city worth the price of his life? Read Vieuchange's chronicle of his journey, published as Smara, The Forbidden City, and decide for yourself." (Amazon)
Read a summary of "Smara". Click here.
May 2, 2013
It is ironic: I travelled to the Arctic, sailed through the Northwest Passage on an icebreaker of the Canadian coastguard, hoping to see polar bears.
I actually saw one. A tiny wandering spot far, far away in the distance. A yellowish flea in the great white ice. A photographer of  the newsagency Canadian Press who was on the icebreaker, too, was able to capture it with a huge telephoto lense.
My camera was not good enough. I returned without a polar bear picture.
My friends in St. Lunaire-Griquet, a village in the north of Newfoundland on Canada`s Eastern coast, don`t need to travel on icebreakers. Most years, polar bears walk into their village – and the beasts don`t even sell tickets for their spectacle.
Last week, two of these magnificent animals frolicked between the houses as if they were on holiday. The people in the area took their cameras and cell phones and got some great pictures – without a telephoto lense.
They allowed me to publish these pictures, but to tell you the truth, it is a small comfort for not having been there.
Thanks anyway, folks!
Photos Dark Tickle Company (2), Tammy Pilgrim (4)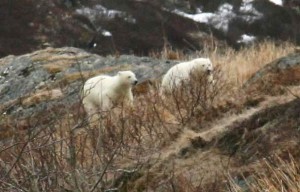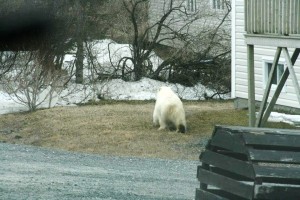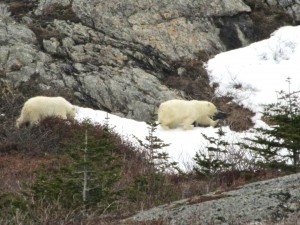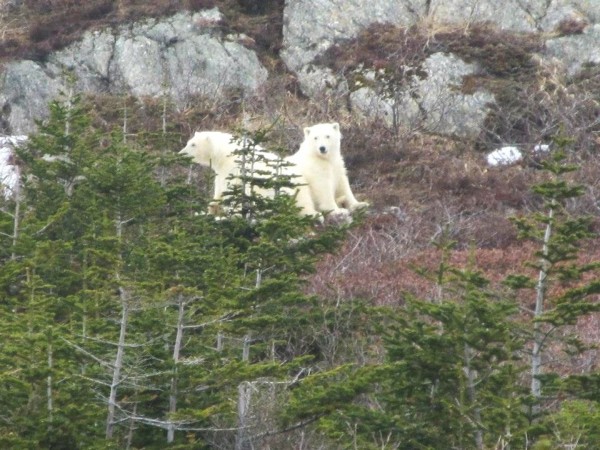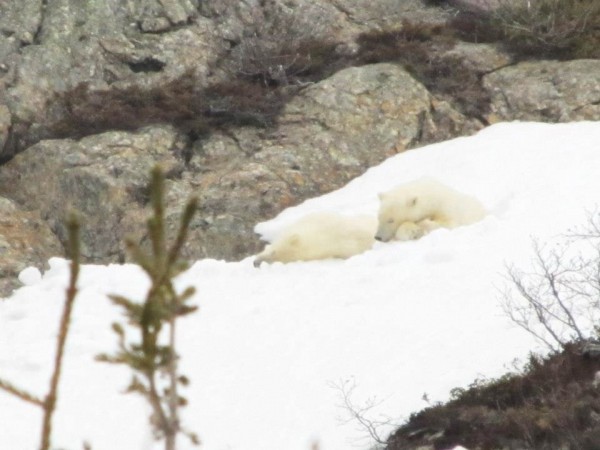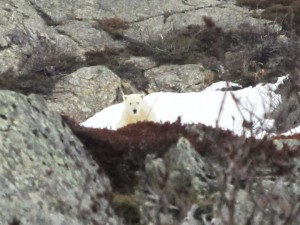 March 29, 2013
A national icon instead of dwarves in the garden?
I think Canada is the only country where its citizens decorate their back yards with wooden figures ot their police.
Here a very pretty specimen of a member of the Royal Canadian Mounted Police (RCMP), seen in Gibsons/British Columbia. The woman beside it is alive, by the way.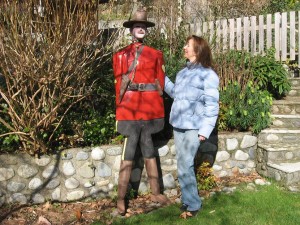 And because it is Easter, here some Easter decorations in a yard in Beckenried/Switzerland (on Lake Lucerne).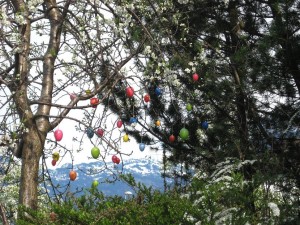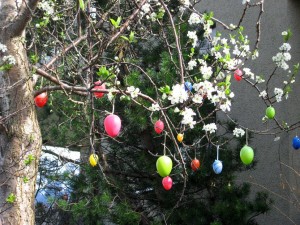 March 7, 2013
Look at the changes on the beaches of the Pacific Ocean north of Vancouver: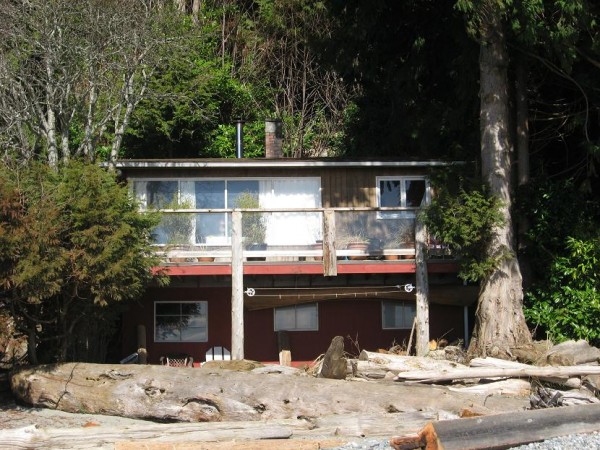 That is how an old quaint traditional beach house looks.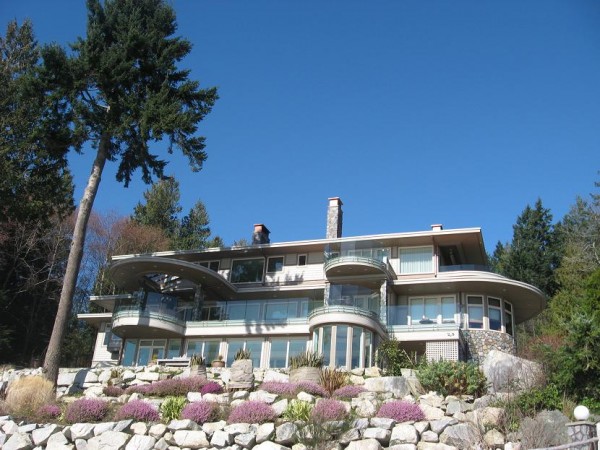 But more and more rich people build palaces like this one along the beach.
The only comfort: In the Canadian province British Columbia, the beach itself belongs to the people. They can hike in front of these palaces or sit in the sand and turn their backs on them.
February 23, 2013
Switzerland has a bear. Sorry, has had a bear. One single bear. And they shot him because he had become a "problem bear".
One large Swiss newspaper wanted to know from me: Are Canadians more relaxed around bears? Well, yes and no.
Most Canadians live in cities and have never encountered a bear. But where I live, on the Sunshine Coast, a more rural area, you can see bears quite often.
For instance in my backyard.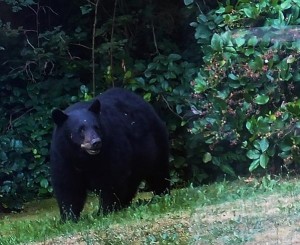 A black bear munching away in a garden in our village (photo Susanne Keller).
One bear walked across the deck while I was sitting at my living room table reading a newspaper (note: reading newspapers can be dangerous!). My cat heard him first and disappeared under the armchair.
When I opened the French door to the deck and yelled at him (I can be very couragious when I am protected by a door), he just looked around and then, unimpressed, ambled into the bushes.
Another day, I sat in the sun in my yard and read a book (note: reading a book can be even more dangerous!), I heard  loud trashing and cracking  in the bushes.
I did not hesitate,  swept up my cat (there are no armchairs for it to hide under in my yard) and ran into the house. Next thing I see through the window is a huge bear in the bushes sticking his head out.
Later a neighbour told me that this bear is touring the neighbourhood every year. He especially likes the plums in another neighbour`s yard.
A teenager bear that turned up in my yard was quite cheeky (or maybe just insecure as many teenagers are) and just did not want to leave. And when he finally crossed the road, he returned shortly afterwards. He really took his time to mosey on.
I still remember the day, it was a Saturday at 11 a.m., when a mother bear crossed the road just in front of me, two cubs in tow. I wondered where had she been all this time when I was walking down that road near my house!
But I have to say that considering how many bears there are, they have never hurt a human in our area. But we hurt them. Big time.
When a bear was spotted near a school building in Gibsons, it was shot. The police said it got too close too humans. Well, yes.
People protested in letters to the local newspapers against the shooting but it was too late.
February 12, 2013
I have another blog!
And it`s in English!
You can read it!
The Swiss Consulate in Vancouver asked me to write a column on a special website celebrating their 100-year-anniversary. These Swiss have been in Vancouver for 100 (one hundred) years!
Obviously they wanted to look after those Swiss people who emigrated to Canada. Never lose sight of your citizens.
Now I have a pretext to talk to lots of Swiss immigrants in British Columbia, Alberta and the Yukon. This is cool!
And I can ask Canadians living in Switzerland what they think about the Swiss… I hope they won`t be too polite and only say nice but boring things.
This is the link to the blog "Bernadette`s Take" : Click here!
January 19, 2013
Back in Vancouver!
When I cross the continent from one end to the other, from the East coast to the West coast, from the Atlantic to the Pacific ocean, from Newfoundland to Vancouver, I do not only cross six time zones.
I land in a completely different climate. From temperatures at 30 below to a landscape without snow, to sun and mild days and sitting outside having coffee.
What do I need to fly to Mexico, Hawaii or Cuba like many Canadians do?  For me, Vancouver and the Sunshine Coast feel like an exotic seaside resort!
Here some contrasts that I captured with my camera:
View from my window in Newfoundland
View from my window in Vancouver a few days later…
Street scene in Vancouver in January
Street scene in a village in Northern Newfoundland in January.
December 27, 2012
I am spending Christmas with my partner`s family in Newfoundland. They celebrate Christmas for twelve days and the Christmas tree is cut right in their yard. Everybody visits neighbours (who are mostly relatives) and friends and is served tons of food and cookies and rum.
"Who wants to be hugged?", Santa cried from his sleigh – and I did not say No! Who said that Christmas is only for kids…
No Swiss wax candles for Canadian Christmas trees!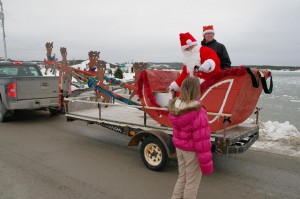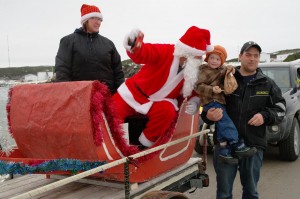 Maybe Santa needs some caribou for his sleigh… (Photos Calonego)
Here a very special Christmas gift – a  lovely mail from a reader who loved my book "Oh, wie schön ist Kanada!" (Oh how beautiful is Canada!):

Hi there!

This evening, on the train ride home from working another long day at the Frankfurt christmas market, I finished your book "Oh wie schön ist Kanada". I just wanted to take the time to write a short letter to you to say how much I enjoyed the book! Well done!

Although I was born in Germany (as my name surely suggests), and lived there until the ripe age of 12, I have spent the past 15 years growing, learning, and laughing my way through life in various parts of Canada. In that time, I have been fortunate enough to call Halifax, Calgary, Windsor (ON), and Ottawa 'Home'. Just this past August I returned to Frankfurt in hopes of finding more suitable employment on this side of the pond (what does one do with a masters degree in sociology after all?!).

In order to improve on my, slightly inferior, german writing skills I have been picking up and reading various books that catch my eye at the local bookstore. Yours happened to be my most recent book of choice and I would like to say, job well done! "Oh wie schön ist Kanada" was a smooth, easy read and endlessly entertaining for me. As someone who grew up in both countries and has an inexplicable understanding of and love for both nations, I could not help myself from smirking and looking like a fool in the S-Bahn on a daily basis. The stories you shared that expressed your surprise at certain, typically Canadian, behaviours are for me, as the germans would say, selbstverständlich. As the stories developed I could already see where and how they would end and it not only made me smile in delight but made me miss my other motherland. Your ability to capture the sentiments of the Canadian people was spot on in most cases and it made me realize just how Canadian I actually am.

As a sociologist, I am a constant and avid observer of people and I found your observations to be very interesting. You have done a fantastic job of describing some peculiar Canadian ways from the German point of view. Also, I commend you on your passion for Canadian history. I can actually say that I have learned a great deal about politics and history from reading this book that I didn't know before and I am certain that most of my friends could benefit from reading this book as well. Humourous and a delight to read, I'm sure I will be picking up your book for a re-read soon enough.

Please keep on writing about your stories and experiences in Canada! I look forward to the next book

Greetings from Egelsbach!

Silke
December 3, 2012 
Winter has arrived! The ponds are iced over.
Real Canadians venture out immediately on their skates!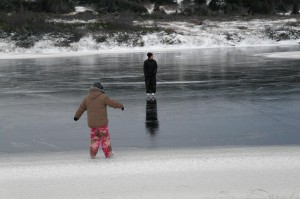 Early practice makes perfect…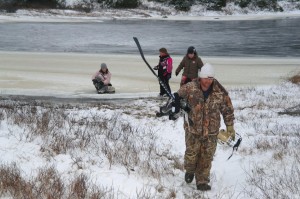 Dad from Hockey Nation!
November 30, 2012
Beside wilderness, nature and unexpected encounters with animals, there is also "normal" adventure tourism in Canada. Zip Lining, for example.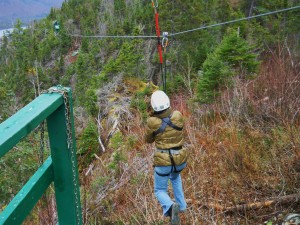 I tried it for the first time, and it was worth every penny. The zip lines crossed a canyon with a huge waterfall. There were seven platforms from which one had to jump into the abyss (sometimes I just stumbled into the void).
In our group there was a girl with acrobatic skills who – in the very sense of the word – let her hair down and her feet pointed upwards. I am not such a dare devil, and I never let go of my grip around a rope attached to my harness, although one could have easily done without it.
But I had fun and I don`t regret one minute of it. Accidentally, our guide was German. He had come to Canada and got stuck here (no pun intended). He did a good job and I felt very safe – even dangling from the sky.
November 2, 2012
Nothing more exciting than a road trip in Canada! It is always an adventure, especially if you drive on a dirt road through the wilderness.
We traveled in a pickup truck on a recently built road through Labrador: 410 kilometres long and not one single house – and of course, no gas bar! It took us 5 hours to reach our goal: the town of Goose Bay (and 5 hours back to the next village).
We were very lucky not to get stranded in the middle of nowhere because the wheel bearing wore out! We listened to music from Labrador, i.e. about a grandpa who did not take baths in the winter, went to bed in his clothes and thought soaps were not good for your health. At least, we did not have to listen to the awful noise coming from the wheel bearing…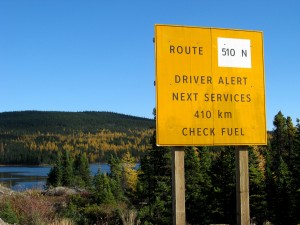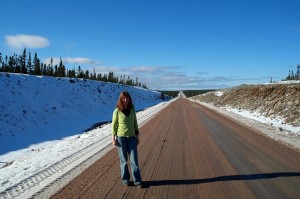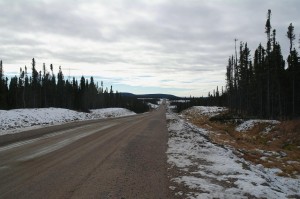 October 1, 2012
I grew up in Switzerland where (almost) everything has to be clean and tidy. Old houses are restored, and if they are not restored they are torn down and vanish without a trace.
Canadians are more relaxed where decay, imperfection and impermanence are concerned. When I look at some cemetaries that can be found somewhere in a landscape, in dreamlike state, surrounded and taken over by nature, I am enchanted. These graveyards are mysterious and can be explored endlessly.
It does not matter that no gardener tends to flower beds or that the tombstones are half falling down. In their imperfection, these graves radiate a haunting beauty.
In Canada, entire towns were abandoned when a mine closed or when the government resettled tiny communities. These ghost towns possess an oddly fascinating atmosphere.
I find abandoned places captivating. For me, the scent of the past is much stronger there than in sterile overly restored buildings. Do you feel the same way?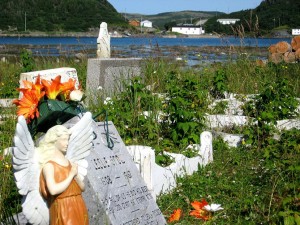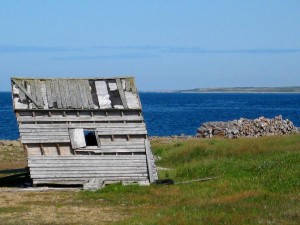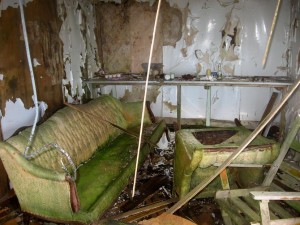 August 28, 2012
I am fascinated by Canada`s early history, especially by what happened long before French explorer Jacques Cartier landed in Newfoundland in 1534.
Today we know that the Vikings set foot on North American soil about 500 years before Columbus "discovered" America. They settled for a short while on the Northern tip of the Canadian island Newfoundland, what is today a small fishing village named L`Anse aux Meadows.
With the help of local people, the Norwegian explorer Helge Ingstad and his wife Anne Stine, an archeologist, found the location of the Viking settlement in 1960 and excavated the foundations of their sod houses.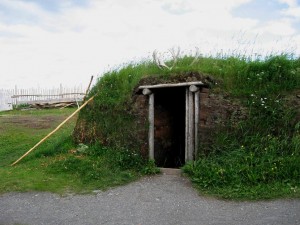 A replica of a Viking sod house in L`Anse aux Meadows.
I also travelled to Labrador because I wanted to see the oldest known burial mound in North America, near the village of L`Anse Amour. Around 7000 to 8000 years ago, early Indian hunters buried a child and gave it an astonishingly  elaborate grave. The skeleton was found in the summer of 1974.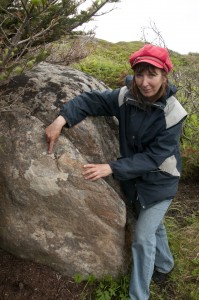 When I heard of a Canadian hobby archeologist named Robert Burcher who chases after mysterious inscriptions on boulders, I asked him if  I could accompany him on one of his expeditions.
It was an exciting experience, just how I like it. Fortunately, these stones are hidden away in remote places which protects them from vandals.
Most inscriptions cannot be translated but maybe one day they will give up their secret…
July 27, 2012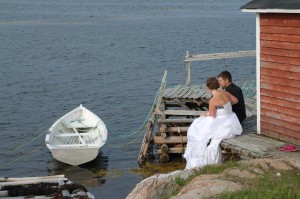 Today, I am invited to a wedding! It is my first Canadian wedding as a guest.
But last week, I encountered a couple on their wedding day on tiny Fogo Island in Eastern Canada. Bride and groom and all the other young guests paraded in quads (motorized all-terrain vehicle) along the road while the villagers of Joe Batt`s Arm fired their guns in the air in honour of the newlyweds.
Later, I saw the happy couple being photographed in front of a "stage", a fisherman`s hut, the bride balancing barefoot on the raw wooden planks. I had to take a picture. What a romantic sight!
However, in Canada, weddings are decreasing. Instead many couples choose to live together without a wedding band. Their status is called common-law, but before the law it is very similar to marriage.
Although most Canadian couples choose marriage, the proportion of married-couple families declined from 2001 to 2006.
Married-couple families accounted for 69% of all census families in 2006, down from 71% five years earlier. During the same period, the proportion of common-law-couple families rose from 14% to 16%, and the share of lone-parent families increased from 15.7% to 15.9%.
Two decades ago, common-law-couple families accounted for 7% of all census families, while married-couple families accounted for 80% and lone-parent families, 13%.
Maybe it is the fear of divorce that prevents people from tying the knot: Currently, it's expected that 37.7% of all Canadian marriages will end in a divorce before the 30th anniversary.
But with all my heart, I wish the couple in my picture a "happily ever after"!
………………………..
Here some reviews from readers regarding my book "The Zurich Conspiracy" on the Amazon.com website.
"This is only the second mystery novel I've read but it kept me gripped enough to finish the book in a matter of days. Calonegro manages to create a heroine that is we can all relate to; she is strong and smart but also gullible and vulnerable."
"Calonego's mystery/murder novel is born of a very complex plot, taking its intrigue from the nefarious behind the scenes maneuverings of the rich and powerful of a high image corporate machine. Everyone is scratching and clawing to get to the top, and some don't care what it takes to get there. Calonego draws upon a considerable number of characters in her work and that throws certain confusion into the soup that successfully keeps the reader pondering the connections."
"It's not often one finds a thriller that keeps you guessing until the end… but this one does that and more. The plot is fast-paced and intricately woven so pay attention — it's worth it! This book offers suspense, a great setting, interesting characters, in a well-crafted package. A solid read. I would recommend it to those who enjoy a good thriller with more depth than usual, who appreciate a good story combined with intelligent writing."
"This is not a book to be read slowly unless one has a very fine memory. Minor characters can reappear after many pages sending one scurrying back to find out who they are. However most likely this will not be a problem if you have the time as the book is quite gripping and will keep you guessing until the end. It is an extremely fine mystery."
"I am amazed how Bernadette Calonego achieved to dive into the internal emptiness of each of her characters. What force of creativity and sharp observation – it is obviously the work of a renowned journalist who has witnessed the business war zones and who knows to use the claviature of psychology."
"Each chapter brings something new, a question or an answer, sometimes both, always some action and unexpected development."
July 4, 2012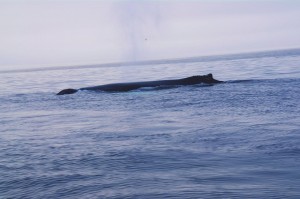 There are hundreds of humpback whales near the coast of Northern Newfoundland feeding on capelin. They slap their flippers onto the surface of the water in order to chase the fish. The banging noise is heard in fishing villages around the bay.
A fisherman took me out in this speed boat and we got really close to the whales. I could hear them breathe. To be in close proximity to these huge animals is fascinating and scary at the same time. They could tip a boat with one slap of their tail – but they never do.
Unimaginable that these peaceful animals once were hunted almost to distinction. The thought that they live in the oceans and that we can watch them, moves me deeply. I am very thankful for this experience.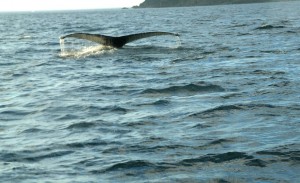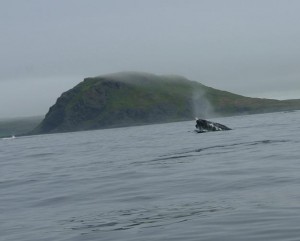 June 20, 2012
Western Europeans like me, who grew up in a densely populated area, tend to dream of vast empty spaces, like the ones in Canada. No house, no cars, no people – only nature.
But one easily forgets that there is a price to pay for a tranquil life in an isolated area. I got a taste of it when I drove two kittens that belonged to friends of mine to the nearest vet clinic – it is 500 km away! The kittens who had to be spayed cried the entire distance. It was a hot day and there was no shade for a rest stop along the road.
Last winter, I drove a stray cat to the vet in snow and storm-force-winds. It was sheer horror. I never reached the vet, I got stranded before that. But good people adopted the cat and had her spayed later.
When I got to the clinic, I asked the vet if he would travel twice a year to isolated communities and spay and neuter the pets there. He declined.
"I`m too busy", he said.
After the surgery, me and the cats drove another 500 km. There is one good thing to be reported: The kittens are doing fine.
June 8, 2012
I posted a FAQ on the page "Bio" because people ask me frequently about these topics, so I thought it would be a good idea to answer them right away.
Some of the questions that people send me are fascinating. Recently, a Swiss theologist asked me whether the Canadian Inuit knew the concept of "sin" and how it is translated in their new bible in Inuktituk that was completed just a few weeks ago. I asked an Inuit translator and it turns out that the Inuit do have a word for "sin", but the concept of "salvation" was foreign to them. They describe it in Inuktituk with "to be saved from danger".
A ten-year-old student interviewed me yesterday about being a writer. Here are her questions:
1.  What are the pros of being a writer? (The good things)
2.  What are the cons of the job? (The bad things)
3.  Why should someone pick this job?
4.  What kind of story is easier to write? – science fiction, historical fiction, biography, realistic fiction, or fantasy, etc.
5.  What kind of personality is a good personality for an author?
6.  What kind of talents should you have?
7.  Is it easier to write factual stories or made-up stories?
8.  How long does it take for one book to be published?
9.  Is it hard, fun, boring (etc.) or easy to come up with a topic for a story?
10.  Are there any other things that you think of this job? (I think it's hard because… Sometimes I like this job a lot because…)
11.   Who makes/how do you make a title page for a book? (Does somebody take the photo for you, does somebody illustrate it for you, how do you find this person, etc.)
I can tell you that some of the answers were quite a challenge!
On June 19, my book "The Zurich Conspiracy", published by AmazonCrossing, will be in the book stores and available on the internet (see page "Books" for an excerpt). For this occasion, I posted pictures I recently took in Zurich on the page "Photos". If you read the book, you will recognise many of the places, squares and buildings that play a role in the story. Zurich is a great crime scene for a thriller!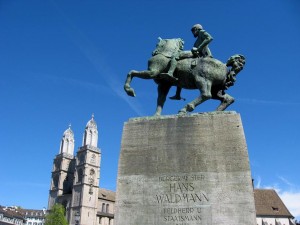 Here another reader who wrote to me and delighted me:
Hello Mrs. Calonego,
I have lived for nearly 4 years close to Calgary. A few days ago, a friend of mine sent me your book "Oh, wie schön ist Kanada!" (O how beautiful is Canada). I read in in a few days and I would like to tell you that it amused me greatly.
I had similar experiences in 75 per cent of the  events in the book, and you have painted them vividly and accurately.
Sunny greetings from Alberta
Ralf

May 15, 2012
Back from my trip to Switzerland and Germany!
So many impressions  and encounters with so many wonderful and interesting people and old friends whom I have not seen for a long time. They received me with open arms, and it was like I had never been so far away. They were so gracious and hospitable which made me feel at home again immediately.
It was an emotional and intense few weeks but worth the long  journey from Canada.
In Zurich, such a beautiful, vibrant city with a definite mediterranian aura, I walked in the footsteps of my book "The Zurich Conspiracy" which is going to be published in June by AmazonCrossing. (I also walked in the cloistered courtyard of the medievial Zurich cathedral, the Grossmünster, a church that is one of the many local sites where my heroine Josefa Rehmer follows tracks that will eventually lead her to the discovery of conspiracy and murder.)
In this recent photo, the Grossmünster towers can be seen in the background.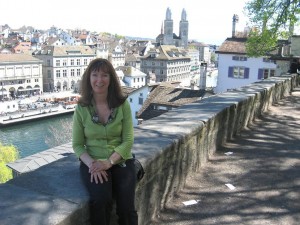 I met many friends and acquaintances who – despite the incredible distance between Switzerland and Canada – are still close and dear to my heart. Brigitta and Fabian for instance who once lived in Canada but have returned to Switzerland.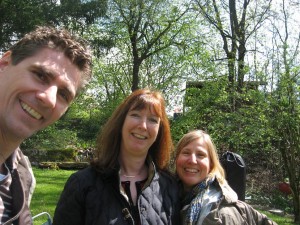 And I visited my hometown Buochs on the Lake of Lucerne where I grew up. The village has grown considerably but it still evokes many lasting and sweet memories. Swimming in the lake, hiking in the mountains, nature all around, helping out on the neighbours`dairy farm, chasing June beetles, the yearly church parade to the chapel in the forest, riding downhill on toboggans, guided only by flashlights in the dark winter night, dancing in the disco, or dancing barefooted in the summer rain, educational "culture films" in the village movie theatre, wearing the traditional folkloric costume at the International Trachtenfest, crossing the lake on steamboats, playing dodgeball in the schoolyard, rebelling against strict nuns who were our teachers, fireworks on our national day a.s.o.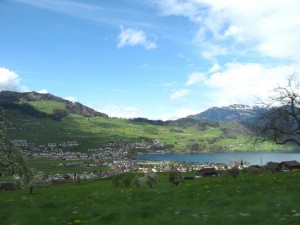 April 8, 2012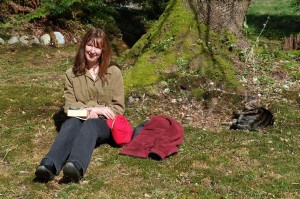 This is my favourite spot for reading in my backyard – at the foot of a maple tree, of course!
My cat Sammy (right) loves to keep me company unless he is busy hunting mice.
I wish all of you a happy Easter, Passover, Pasqua, Paques – and a good book! Mine is a collection of short stories from the Canadian author Alice Munro. (Photo Bernadette Calonego)
Bernadette Calonego in her yard.
April 3, 2012
It is always a moment of suspense for the author when the cover design of a new book is revealed.
That is what happened a short time ago with the cover of my new book "The Zurich Conspiracy". I think it is a great cover and I congratulate the designer on it!
The translator Gerald Chapple also did an amazing job. it was an honour to work with such an accomplished award winning expert.
The book will be published in June by AmazonCrossing, and I cannot wait to get some readers`reactions. I am very excited that, finally, my English speaking friends can read a book of mine.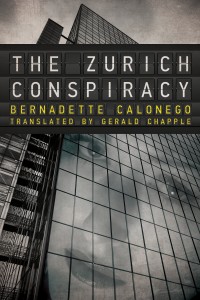 Click here for an excerpt of "The Zurich Conspiracy"
March 29, 2012
I love the Canadian ferries!
When you live on the West Coast, you cannot do without them.
On the ferry, I often meet people whom I know. There is time for a friendly chat. The scenery is breathtaking. Looking out onto the water fills your heart with peace. Sometimes we see whales or dolphins.
For a roundtrip from Vancouver to Vancouver Island and back, you can enjoy four ferries: one from Horseshoe Bay to the Sunshine Coast, one to Powell River, from there another one to Comox on Vancouver Island and then back from Nanaimo to Horseshoe Bay. Heavenly!
Ferries don`t come cheap when you take your car. But one feels like a pioneer traveler!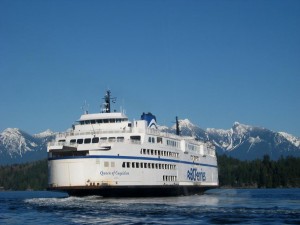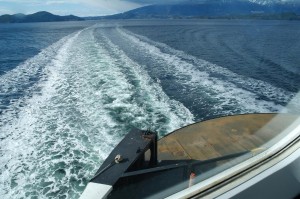 February 24, 2012
While it is freezing cold in Europe, I feel like on a warm island here on the West Coast. I don`t mind the rain and an overcast sky if I don`t have to drive on snowy roads. We are really fortunate in this corner of Canada, I know how cold it can get in other parts.
Funny enough, some people find it still unpleasant and complain about the bad weather. Everything is relative. Here a picture of the Sunshine Coast north of Vancouver which deserves its name as you can see. I took the photos about two weeks ago. The other day, I had a man in my yard raking up leaves. He wore a short-sleeved shirt!
Mind you, some people in this area tend to walk around with bare legs and shorts in winter. Or in tank tops and an open coat.  They are just tough, these Canadians!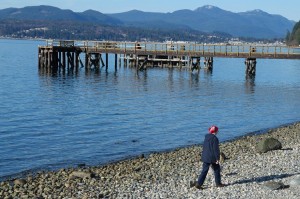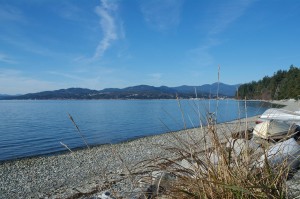 A reader who had fallen in love with a Canadian in der Caribou region (British Columbia) sent me this e-mail (she married him eventually):
Dear Mrs. Calonego,
congratulations to your very successfull book!  My sister-in-law gave me  "Oh, wie schön ist Kanada!" (Oh how beautiful is Canada!) as a gift and I devoured it in just a few hours. Apart from the fact that the first part of the book reminded me so much of my first impression of Williams Lake and it surroundings during the Stampede – smile – I was very impressed by your accurate description and sensitive phrasing of the Canadian attitude to life (…)
Steffi Krumsiek
January 22, 2012
A friend of mine once said that one could get accustomed to the most beautiful view if you can see it on a daily basis. I can enjoy this view of the inner city of Vancouver and the inlet of False Creek from the condo of friends of mine on the 13th floor. Isn`t it spectacular?
When I return home from extended traveling, as it happens now, the picture from the balcony is even more breathtaking. This is why it is good  to leave Vancouver from time to time, and when I come back, I fall in love with this wonderful city all over again.
Back home, I am not fazed even by the pounding rain and the storm winds. I am bathing in the humid air and stoically pick up fallen branches from the ground in my yard. Only two racoons who come a bit too close for comfort have to be kept in check with a broom. They should remember that they are cute but still wild animals, and I have no intention to feed them like some people might have done because  these racoons have lost their natural respect of human beings.
December 28, 2011
I would like to share with you some of the spontanious emails that I recieved from readers who had bought my book "Oh, wie schön ist Kanada!" (Oh, how beautiful is Canada!"). Their words warm my heart and encourage me to keep on writing books.
Yesterday, I stumbled upon your book and I don`t regret anything at all! Thank you very much, I had a lot of fun reading so many known and unknown things about my "dream country".

Tina from Germany
I virtually devoured your book! Being a Canada fan – also professionally – I came to feel even closer to Canada and the Canadians, partly with a twinkle in the eye.
Katrin Oelgart-Hißbach, Germany
I instantly started to read at home and I could not stop until I had finished it. Your book is so true and wonderfully written and it describes some ob the most beautiful aspects of Canada.
M.S., student, Bonn, Germany
Congratulations to your website and to your success as a writer! I have read about your bestseller on Spiegel Online, and as an immigrant from Switzerland I was interested, of course.
Rolf, Williams Lake
I don`t know why but with every departure and every arrival, up to this day, with every movie, photo and now with your book, tears come to my eyes and my heart is longing and expanding. I cannot explain it, but I can explain your fascination with this country, its people – the eternity there. I feel so wonderfully meaningless , in a positive sense, on Canadian soil.
Barbara Richert-Huemer, Lindau, Germany
Reviews on www.amazon.de
The book is an entertaining pleasure to read! The experiences offer a humorous insight in how Canadians are wired and the struggles of a German (traveler) to deal with it. I got an appetite to travel through Canada and to experience some of the adventures myself.
The encounters with original Canadians in the Northern and the Western parts of the vast country are revelatory and convey fascinating insights into the Canadian soul. For people interested in Canada, it is a relish to read!
As a Swiss-Canadian full of nostalgia, I can relate to the experiences very well and with a smirk on my face. It is written sardonically and I can recommend (the book) to everybody.
Beside the amusing aspects: One can learn a lot of new information about the country and its people. Effortlessly, en passant. It is not a coincidence that the book found its way  into the bestseller list for non-fiction pocket editions.
December 27,2011
Christmas in Canada is different from European traditions.  But it is very different from Christmas in the Canadian province of Newfoundland and Labrador. In the North of the island of Newfoundland, people are celebrating Christmas for 12 days! Everybody is off work, and the days and nights are filled with visits to friends, relatives and neighbours.
At night, the mummers come knocking on your door. Mummering or jannying is an old tradition in Newfoundland, it probably stems from the Irish or English settlers. People dress up in costumes and hide their faces behind masks (in earlier days, it used to be a pillow cover over the face and a blanket wrapped around the body). They go in groups from house to house and shout: "Any mummers allowed in?" Sometimes they have instruments with them and make music and dance a jig. The hosts give them a drink or two and try to guess who is behind the mask.
I noticed that the soft rubber masks have an opening where the mouth is, so people can actually drink!
December 2, 2011
The time before Christmas ist not my favourite part of the year. I miss the German and Swiss Christmas chorals which I love but do not hear on Canadian and American television nor in the stores. I spent my childhood in Switzerland, so "Jingle Bells" and "Winter Wonderland" does not make my heart glow…
As it gets dark at four in the afternoon, I also miss my evening strolls.
But there is reason to celebrate: One week after the launch of my book "Oh, wie schön ist Kanada!" (O how beautiful is Canada!"), the title landed on the 23rd spot of the bestseller list of the Spiegel online edition for non-fiction pocket books – it was the highest scoring newcomer!
To read my name in the same line as bestseller is a wonderful feeling!
By the way, to have a book published produces a very nice side effect: Friends and people I have not heard from in years spontanously write to me. We instantly connect again and I hear what has happened in their lives. We promise each other to phone more often in the future.
Strangers write to me, too, and when we talk by email about the book, we become like old acquaintances.
Reason enough to toast to all of you!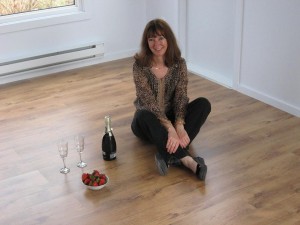 November 16, 2011
My latest book "Oh, wie schön ist Kanada!" , published by Ullstein in Germany, is now in the stores in Europe. It is a pity that I cannot be there right now and see my "babies" in the windows or on the shelves. I would sneak into the stores and watch from afar who is looking at my book. A writer`s forbidden pleasure …
Already readers are sending me emails about the book which makes up for not being there personally.
But luckily, the translation of my first book "Use your enemies"  into English is finished now, by an excellent translator, Gerald Chapple from Hamilton/Ontario. What an honour to work with such a distinguished professional. It was fun to go back and forth on certain phrases or metaphores. A translator is an artist, for sure.
The book will be published in April, 2012. Then, finally, my friends here in Canada will be able to read one of my novels!
October 15, 2011

A lot of Canadians move to warmer places when it gets cold and rainy here. Elderly people, called "snowbirds", prefer the gated communities in U.S. states like Florida where they spend the winter. Many friends of mine leave for holidays in Mexico or Hawaii.
On the West Coast near Vancouver where I live, the climate is very mild and in winter, we have lots of rain. There is hardly any snowfall near the ocean. But once in a while, it snows for a day or two  in Vancouver, and when that happens, there is chaos in the streets because the cars have summer tires and people do not know how to drive in the snow.
Even with this mild weather, people in Vancouver like to complain about the bad winter. A habit about which people in Toronto and Montreal where the winter is long and very cold can only shake their heads.
In the warm and humid climate on Canada`s West Coast, the temperate rain forest thrives, the vegetation is lush, the trees are huge, and in my yard, weed grows so fast that I can never catch up with weeding.
I also love barren, rocky, desolate landscapes, as on the island of Newfoundland in Eastern Canada where lichen and moss and hardy plants have to fight for survival. In these areas, everything is reduced to its essence and one feels very close to nature. Hiking in barren landscapes is pure therapy for me!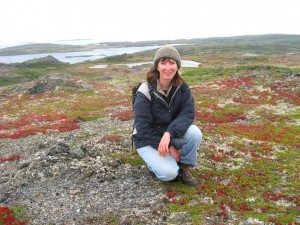 September 14, 2011
Friends of mine discovered this harp seal on their property. For hours, the seal was rubbing its body on the rocky shore. When I took this picture, I noticed a green coating on part of its fur. A local fisherman suspected it to be crude oil. If this is true, it would mean that that the seal could fall ill and die from it.
Oil spills threaten many creatures in the ocean. Harp seals normally move up North to the Arctic in the summer. One day they could be threatened by oil spills there, too, as more and more ships travel through the Arctic waterways that are increasingly ice free. An alarming trend, indeed.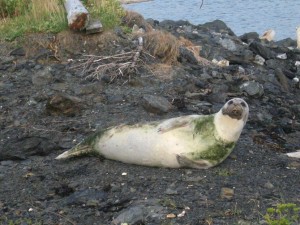 Photo Bernadette Calonego
August 7, 2011
Canada is supposed to be a cold country. What?! You have to go to Montreal in summer to feel the heat! It was 30 degrees Celsius when I walked the streets of the up and coming Plateau neighbourhood in July. I almost melted like icecream in the sun.
The winters in Montreal are a different matter alltogether, of course. But Montreal in July and August is like the French Riviera, and the women in Montreal dress the part, I can tell you.
By the way, there are places in the Canadian Arctic that can get pretty hot. Kugluktuk (Coppermine) on the Coronation Gulf for instance. Temperatures can get as high as 34 degrees Celsius. According to the Encyclopedia of Canadian Provinces the record temperature in Kugluktuk was 43 degrees Celsius in 1991. In August 2007, I saw Inuit children swimming in the Arctic Ocean (Photo Bernadette Calonego).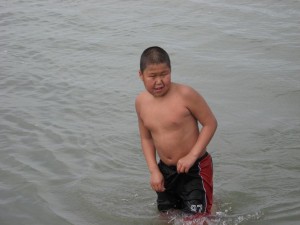 July 8, 2011
Canada is a young country. History looks different here than in Europe but it is equally fascinating. Look at these wood piles in Newfoundland, for instance. Firewood has been stacked into cone-shaped monuments for many generations – and it is still done today. A wonderful way to preserve a traditional way of life.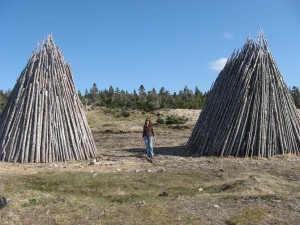 June 10, 2011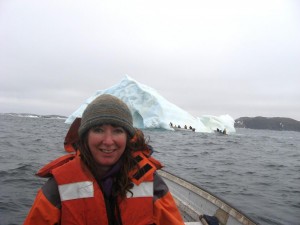 Can you see what is happening in the background? These are daredevils climbing an iceberg! Some people really need to live on the edge.
I keep my distance as I don`t want to be hit by falling ice or drowned by an iceberg that falls apart (which they do without warning).
Foto Copyright Bernadette Calonego
May 8, 2011
For all those who kept asking about my next book – finally I can disclose it:  The copies will be in the stores on November 10. (It will be in German, but who knows … one day, it might be translated into English.)
The title is: Oh, wie schön ist Kanada
! Leben unterm Ahornblatt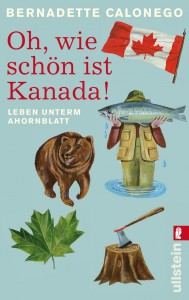 (O, how beautiful is Canada! Life under the Maple Leaf.)
PR-text: About fried muskrats and grizzlies in the backyard.
With German directness, one does not get far in Canada.  This is the lesson that a foreign correspondent eventually learns through amusing slips and misunderstandings while traveling across the huge country. She would like so much to be as relaxed and tolerant as Canadians  – even when a cowboy positions a branding iron on the back of her blue jeans or when she is asked to kiss a cod in Newfoundland.  A surprising and funny "guide" of how to fall in love with Canada (and a Canadian).
April 28, 2011
Traveling on the Northern Peninsula of Newfoundland on assignment, I almost encountered a polarbear. Two polarbears crossed the ice on the bay and walked between the houses of St. Anthony. Of course, they were the talk of the town! Wildlife officers had to tranquilize them and they were flown by helicopter to another area.
Friends of mine whose snowmobile had broken down on the Barrens, saw the helicopter flying over their heads with a polarbear dangling in a net. In that moment, they just hoped that the rope would hold and that the polarbear would not land in front of them!
I took a picture of the polarbear trap in St. Anthony. Somebody had painted the word "Danger" across the trap – but unfortunately there was no longer a polarbear in there.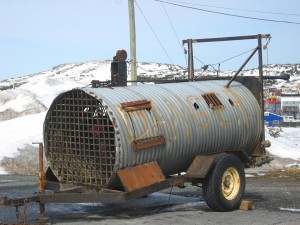 April 3, 2011
I am often asked:  "How come you are a foreign correspondent in Canada?"
The simplest way to respond to this is to refer to a text that I wrote for the catalogue of the Internationale Frühjahrsbuchwoche (The International Spring Book Fair) in Munich, Germany in 2008.
I think this text says it all.
"A possessive love"  by Bernadette Calonego
And many thanks to Professor Peter Stenberg from the University of British Columbia in Vancouver for translating the text.
P.S. Addition to the text: I still have my red pickup truck, it is now 19 years old!