NEW RELEASE!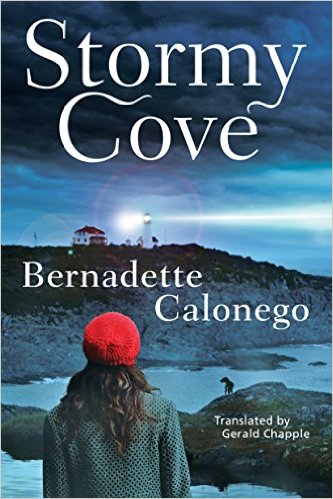 My new mystery novel Stormy Cove will be released May 24, 2016, by the publisher Amazon Crossing.
As a globe-trotting freelance photographer based in Vancouver, British Columbia, Lori Finning has seen just about everything. But when she lands an assignment on the barren, snow-swept island of Newfoundland, she finds herself in harsh and unfamiliar territory.
During the long, dreary winters in the isolated fishing community of Stormy Cove, gossiping is the primary pastime. So Lori is surprised when she learns of a crime the locals have spent twenty years not talking about: the strange, unsolved murder of a teenage girl. As she delves deeper into the village's past, she'll discover dark family secrets, unexplained crimes, and an undeniable attraction to Noah, a taciturn local fisherman who just might hold all the answers.
You can preorder Stormy Cove on www.amazon.ca and www.amazon.com (available as paper back, e-book and audio-book)
Click here to read an excerpt.
To order it in Canada, please click here.
To order it in the U.S., please click here.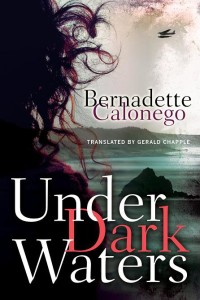 Under Dark Waters
Mystery novel by Bernadette Calonego
published on April 14, 2015
by AmazonCrossing
A woman`s search for the truth leads her on a dangerous trail across Canada.
ISBN-10: 1477828524
ISBN-13: 978-1477828526
Available as paperback and e-book.
To order it in the U.S., please click here.
To order it in Canada, please click here.
On behalf of a Swiss museum, a 33 years old historian, Sonja Werner, is assigned to travel across British Columbia. Officially, she is following the footsteps of the poet Else Seel who had married a trapper in 1927 and who had lived with him in a wilderness log cabin.
But secretly Sonja is investigating the mysterious circumstances in which her husband had died after the crash of a seaplane three years earlier. What information do the police conceal from her? And why did her best friend vanish around the same time? Driven by grief and jealousy, Sonja embarks on a dangerous journey across Canada.
With the clarity and finesse of an Anita Shreve, Bernadette Calonego narrates a young woman`s search for the truth.
"Tension to the very last page and a little surprise to finish off: a book like this is great fun."
Neue Presse
Click here to read an excerpt.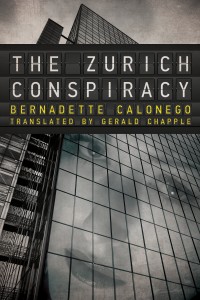 The Zurich Conspiracy
by Bernadette Calonego
Translated by Gerald Chapple
Published by AmazonCrossing in 2012
ISBN-13: 978-1-61109-093-2
ISBN-10: 1611090938
To order it in Canada, click here.
To order it in the U.S., click here.
Thirty-something Josefa Rehmer is as smart and ambitious as they come, qualities that have earned her the enviable position of events manager at Loyn, an exclusive Zurich leather accessories company. But when Werner Schulmann is appointed to be her new supervisor, Josefa's professional ambitions are dealt a serious blow. After all, it was Schulmann's sexual harassment that nearly derailed her career years earlier. Unable to stomach the thought of working for such a man, Josefa resigns, abandoning Loyn for another local firm. But when Schulmann is murdered and Loyn's CEO commits suicide, Josefa begins to suspect that something other than sexual impropriety is plaguing her former company. She sets out to uncover the truth and soon realizes the two deaths are just the tip of the iceberg. As she digs deeper, Josefa finds herself caught in a complex and dangerous web of blackmail, corporate espionage, and murder. And if she's not careful, she will be the next one to take the fall. This dramatic tale of corporate intrigue doubles as an intricately plotted thriller about the darkest side of office politics and the people who will do anything to come out on top.
"A book with absolute star qualities!"
In Style Magazine, German edition
"Subtly interwoven are the stories of revenge, greed and intrigues   . . .  the answer to the ultimate question appears eventually  . . .   how it has to be with a good thriller  . . . in the last paragraph."
Rheinpfalz, Germany
"It turned out to be a crime story from Zurich that has really nothing to do with the cliché of Swiss fussiness. It depicts in an authentic, relevant and fast manner the jet set scene and Big Business wheelings and dealings of the company elite."
Aviva-Berlin.de, The Online Magazine für Women
Click here to read an excerpt.
Oh, wie schön ist Kanada! Leben unterm Ahornblatt (O, how beautiful is Canada! Life under the Maple Leaf.)
published in November 2011
by Ullstein Verlag
Available in book stores and on the internet.
PR-text: About fried muskrats and grizzlies in the backyard.
With German directness, one does not get far in Canada.  This is the lesson that a foreign correspondent eventually learns through amusing slips and misunderstandings while traveling across the huge country. She would like so much to be as relaxed and tolerant as Canadians  – even when a cowboy positions a branding iron on the back of her blue jeans or when she is asked to kiss a cod in Newfoundland.  A surprising and funny "guide" of how to fall in love with Canada (and a Canadian).
---